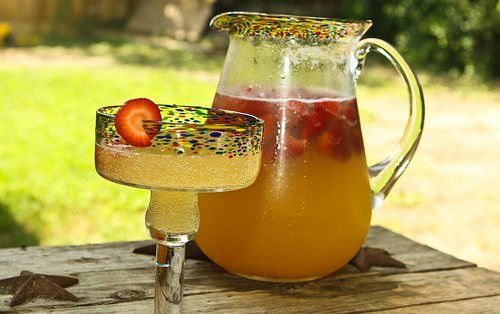 (Editor's note: Dan will be talking about the following post and more today, August 16, on his radio show, Happy Hour. Dan's guest will be Bridget Marquardt of The Girls Next Door fame. Tune in to SiriusXM's Stars Too, channel 104, from 7-8 pm ET. The listener call-in line is 888-996-2946)
The Wall Street Journal's esteemed architecture critic Ada Louise Huxtable once opined: "Summer is the time when one sheds one's tensions with one's clothes, and the right kind of day is jeweled balm for the battered spirit. A few of those days and you can become drunk with the belief that all's right with the world."
Or, better yet, you could just cut to the chase and become drunk with cocktails. I mean, why take chances when everything is so demonstrably not right with the world? That jeweled balm twaddle might fly with elitist Journal readers, but out here — where ordinary folks live under the ozone-depleted, rapidly waming, acid rain–spewing sky — we mend battered spirits the old-fashioned way. By battering them with spirits.
Here at the ass-end of the hottest summer on record, before fall tempts us with its Manhattans and Scotch, we're in dire need of a little cooling off. And okay, sure, you could have used some of this information while you were sweating out July, but as my grandmother always used to say (just before passing out with an empty highball glass in one hand and a lit cigarette in the other), better late than sober. With that in mind, let's make some drinks. This, friends, is the Imbiber's Official List of 2012's Best Dog Days of Summer Cocktails:
Cuckoo-cumber Margarita
Used to be the only time you'd find cucumber in a cocktail was as garnish on a Pimms Cup. Nowadays, cucumbers are as ubiquitous in drink recipes as wingnuts are on the Fox News Channel, and with good reason: Cucumbers are tasty, cooling and a hell of a lot easier to swallow than Sean Hannity or Bill O'Reilly. When the cacophony of screaming meanies in the No Spin Zone last drove me to drink, I retired to my happy place (the basement bar/lab) and put a new spin on an old summer favorite simply by adding cucumber. Try one and I think you'll find its deliciousness to be the kind of bipartisan bibulousness this country desperately needs right now. You can thank me later, America.
1 1/2 ounces Tequila Ocho reposado
1 1/2 ounces sour mix
3/4 ounce triple sec
A quarter cucumber, peeled and sliced
One splash Rose's lime juice
One splash fresh lemon juice
Toss ingredients into a blender with ice and pour the results into a salt-rimmed margarita glass. Garnish with a cucumber wheel. Smile at the next person you see, no matter what their position on government healthcare is.
Summer Breeze
I'm one of the few regular guests on Playboy Radio (Sirius/XM Channel 102) who doesn't get much mileage out of having phenomenal ta-tas or recounting the time Bill Maher tried to bed me at the Mansion (why does no one want to hear that story?). But what I lack in cup size I make up for with booze. Which is to say they let me hang around because I bring great bartenders into the studio to make them drinks (oh drinks, you're like a friend who helps me pretend to have friends). One such guest was Beam Global's master mixologist Bobby Gleason, who, during his most recent appearance on the radio, introduced me to my newest and guiltiest pleasure. That said, it took some convincing to get me to try it.
"What is that?" I asked, eyeing the vibrantly colored concoction skeptically.
"A Summer Breeze," replied Bobby.
"That sounds gay," I said. "Not that there's anything wrong with that, some of my best friends know gay people."
"It's not gay," Bobby laughed. "It's delicious."
"Are you saying gay people aren't delicious?" I asked.
"This has light rum, strawberry liqueur, mango juice and lemonade," he said, shifting into his patient-kindergarten-teacher voice.
"Dude," I said. "Strawberry liqueur and mango juice? Does it come with assless chaps and a handlebar mustache, or do you have to bring your own?"
Then I tried it, and absolutely loved it. The drink was pretty good too.
2 ounces Cruzan light rum
1 ounce DeKuyper Strawberry Patch
4 ounces mango juice
2 ounces lemonade
Throw everything into a cocktail shaker with ice. Shake well and strain into a highball glass filled with ice. Garnish with a fresh strawberry on the rim and a healthy curiosity.
East of Eden
This recipe comes courtesy of Jeffrey Morgenthaler, bar manager at the phenomenal Portland, Oregon watering hole Clyde Common. And while it is true that until very recently I had been banished from the joint as a result of a, ahem, misunderstanding about some unresolved bar tabs, I would like to state unequivocally for the record that the lifting of said ban is in no way related to the inclusion of Jeffrey's recipe in this "best of dog days" collection.
1 1/2 ounces Bombay Dry Gin
3/4 ounce fresh lemon juice
1/2 ounce Gewurtztraminer syrup*
1/4 ounce St-Germain Elderflower Liqueur
1/2 ounce egg white
Lemon zest for garnish
Shake ingredients in a cocktail shaker with ice and strain into a chilled cocktail glass. Squeeze lemon peel over surface to express oils and serve.
*Gewurtztraminer syrup:
Reduce one 750ml bottle of Gewurtztraminer wine a saucepan by half over medium-high heat. Add 12 ounces sugar to the hot liquid. Stir for a couple minutes over heat to combine thoroughly, then chill.
The Flaming Redhead
My editor at one of the glossy magazines I write for invented this cocktail and, no, I'm not going to tell you what debt I'm paying off to him by including it. But in all fairness, this is both really simple and really delicious. And by delicious, I mean, please keep me employed.
2 ounces Bulleit Rye whiskey
1 ounce ginger simple syrup*
Seltzer
Shake whiskey and syrup over ice and strain into a pint glass filled with ice. Top with seltzer and stir slightly.
*Ginger simple syrup:
1 cup sugar
1 cup water
1/4 cup grated ginger
Bring to a boil, cook for two minutes, then take off heat, cover and steep for 15 minutes. Strain and chill (leave in a few ginger bits for texture).
The Sunsplash
Okay, I gotta admit that this one — courtesy of the mighty Modern Mixologist Tony Abou-Ganim —does kind of have a jeweled balm for the spirit thing going on. And whenever I drink a few of them, everything does seem right with the world. Damn you, Ada Louise Huxtable!
1 1/2 ounces orange vodka
1/2 ounce Cointreau
1 1/2 ounces fresh OJ
1 1/2 ounces cranberry
1 ounce lemon sour mix (2 parts fresh lemon juice, 1 part simple syrup)
Shake with ice and strain into an ice filled goblet. Garnish with a slice of orange and a spiral of lemon.
That should be enough to get you through the remainder of the dog days, my thirsty friends. And never forget my grandmother's other favorite expression: If you're not sweating, you're not doing it right.