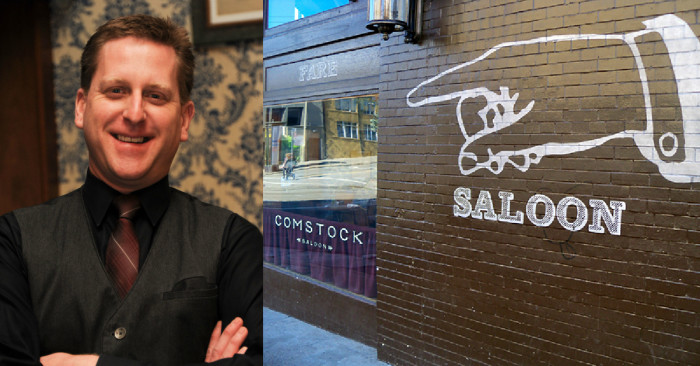 Jeff Hollinger plops down next to me at one of the tight booths at legendary East Village cocktail bar Death + Company where he is about work a guest shift. It's not an invitation anybody in the mixology game takes lightly and Hollinger, a well-regarded bartender himself, has flown all the way from San Francisco to shake some drinks.
After working his way up the ladder at the influential stir spot Absinthe Brasserie & Bar over the past decade, rising from shift bartender to general manager in the process, he co-founded Comstock Saloon with Jonny Raglin in 2009 and remains one of the cities loudest supporters. And, shockingly, he's not a fan of Fernet Branca, an Italian spirit the city is best known for. He explains this, as well as discusses how vodka (of all things) got him into the game of mixing very good tasting drinks for people.
Last night was your first in NYC and you hit up, like, a dozen spots. What time did you wake up this morning?
My alarm starting going off starting at 10. I think I was out of bed by 10:30.
What do you do to get ready for the day after a long night of the obvious in a foreign city? Do you have a recovery kit?
It's called a shower. A shower and coffee, that's about it. I don't have a recovery kit. I have a two-year-old. You just kind of get up and do it. If you're up, then you're up.
Has your two-year-old had a first sip of alcohol yet?
Absolutely not. No way. She's held a cocktail tin in her hand and shaken that a few times, but I have no interest in trying to encourage that.
I feel like Absinthe is the Employees Only of San Francisco. You guys have been doing similar things in your cities for years…
I'll tell you what, I appreciate you saying that. The first time I ever went in was when we were out here shooting for our book The Art Of The Bar and [my co-author] and I were going around and he took me in. It's just a good time. The bartenders there are making good cocktails. And, really, it's not just about the cocktail, it's about having good time. It's a party. It's a lot of fun.
So what are you seeing in SF these days?
There is a lot more emphasis on classic cocktails. There is this whole San Francisco versus New York debate about how New York is all about classic cocktails and San Francisco is more culinary and it started to piss off a lot of bartenders out there because that wasn't necessarily the case. Now you see bars that are much more streamlined. You're going to see things like tequila bars.
The line I always hear about San Francisco is that you guys are way into Fernet Branca…
Everybody wants to talk about Fernet because there was a giant marketing push 10 or 15 years ago. This woman Antoinette Cattani, who imports here, went around and got the bartenders to start drinking it and everybody wants to drink what the bartender is drinking.
Do you drink it?
I don't. I'm not a huge fan of Fernet Branca. It's too minty and peaky for me. But go to R Bar in San Francisco, which pours more Fernet than anybody in the country. That's their thing, that's what they do. You ask about what's coming up right now. To me, every few years there's the next thing that people are talking about. Five years ago it was cachaça, then it was artisanal gins, then it was mescal, and then there was this whole thing about rye. Now it's pisco. What's beyond that is probably all sorts of liqueurs and fortified wines.
If you had your say what would you want to drink?
Amer Picon, because it's not in the States. It's a super-important ingredient that needs to be here. This is me spouting off, but I guarantee that they won't bring it in because they can't make money off of it. If it doesn't make money they're not going to sell it.
What was the first drink you created?
I'm sure it was a vodka drink. It was probably 10 or 11 years ago. I couldn't tell you.
Were you a chef?
No, I went to culinary school. I did it because I was intrigued by the idea of food. I knew I never wanted to work in a kitchen for a lifetime. It was a change of career for me. I was 29 turning 30 while I was in culinary school
What were you doing?
I was a tutor and working on my teaching credentials, but I knew that down the road 10 years I would want to change my career again.
So your first drink was with vodka. That surprises me…
That's what people drank. Vodka is really easy to mix with. At that point Hangar One had just come out. You didn't have a bunch of artisanal gins or whiskeys. You mixed with vodka, that was the most exciting thing happening. Flavored vodka is like a blank canvas, or at least will lead you in the right direction. If it were not for brands like Absolut that had these brilliant marketing campaigns, then people wouldn't not know what they do now. It's a gateway drink.
---
More cocktail coverage on Food Republic: