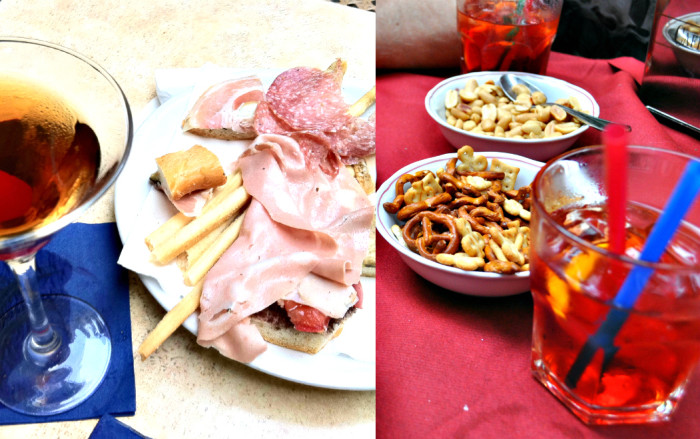 Happy hour often sounds better than it actually is. The connotation of clinking glasses, smiling done-with-work-for-the-day faces and, of course, downing cheap drinks is often dampened by the reality of watered-down cocktails, stinky wine/beer options and totalitarian restrictions on specials. Not so in Italy. The hour referred to as "aperitivo" here truly is the happiest hour: a time to sit and unwind at the end of the day with friends, finger foods and a chilled refreshment just boozy enough for that "ahhh" effect.
The tradition of aperitivo dates back to, well, it's not exactly clear when but you might say centuries. The town of Turin, in the wine-producing region of Piedmont, likes to take its share of the credit, having invented vermouth in the mid-18th century, an ingredient crucial to a number of aperitivo recipes. The region is also home to the aperitivo staple Campari. The idea behind the tradition of snacking and tippling for an hour or three after work (and before dinner, if you have any room left), is best summed up with the old Italian adage: L'appetito viene mangiando, or "The appetite comes when you eat."
Of course, even in Italy, not all aperitivi are equal. The general rule is that the offerings get slimmer the further south you go. But in the north, where aperitivo was born, expect generous portions of meats, cheeses, crostini, panini, chips, nuts, olives and more. Even more exciting than the prospect of a free spread ample enough to spoil your supper is that of a well-made cocktail even in the folksiest of old-man bars. Some of the most generous and tastiest aperitivi in Italy can be found in the historical city of Genoa, just two hours' drive south of Turin. It may attract just a fraction of the tourists Rome and other major Italian destinations do, but its aperitivo puts the capitale's to shame.
Here are five great aperitivi in Genoa…
1. Le Corbusier
Named for the modernist French architect, this lively little bar uses the cozy courtyard next to a gothic church around the corner for its outdoor space (which it also shares with a pizzeria, just in case you don't fill up on snacks). Let the young Genovese experiment with the mojitos and caipiroskas on the extensive cocktail list, and order a classic Negroni for yourself. It arrives with ribbons of prosciutto and thin slices of fatty mortadella, plus chips and finger sandwiches and breadsticks, and a seemingly endless parade of other goodies. Via San Donato 36, +39-328-696-7446
2. Pasticceria Liquoreria Marescotti Cavo
This landmark comprising a bar, restaurant and pastry shop is said to date as far back as the 17th century. Upon the death of its last heir, the place was sealed up and stayed that way nearly 30 years until the Cavo family bought and restored it in 2006. The interior is beautifully furnished, and yet it's so tempting to opt for an outdoor table instead. Squeezed into a narrow cobbled road in what is known as Europe's biggest old town, you'll watch the world go by up close and personal, with pretzels and savory pastries to boot. Via di Fossatello 35, +39-010-209-1226, cavo.it
3. Caffè Letterario delle Erbe
The "libreria" sign above the door fools you for just a split-second into thinking this is a book shop or maybe even a literary café. But then you remember you're on the lively Piazza delle Erbe, where there isn't room for much outside eating and drinking. You can always try to leaf through one of the many books on the shelves, but it's a little distracting what with plates of crostini and cured meats being circulated. The drinks list is long here, too. Go for a classic Americano cocktail, then have another. A new heaping pile of nibbles will be brought out with each round. Piazza delle Erbe 25, +39-010-209-1636, cafe.caffeletterario.info
4. Caffè il Barbarossa
Located just steps from the Porta Soprana that encloses Genoa's expansive Old Town and Columbus House beyond it, where Christopher Columbus is said to have lived, this quaint little café with the Elvis statue outside is an enchanting place for a drink and a snack. The slight elevation – it's at the top of a steep hill – allows for a light breeze on warmer evenings. Order a classic cocktail or one of 100 or so different rums and wait for the olives, salami-draped breads and other treats to be delivered. Piano di Sant'Andrea 23, +39-010-246-5079, cafeilbarbarossa.com
5. Caffè degli Specchi
This narrow space, done up in white marble floors, mirrored walls and a white-tiled vaulted ceiling could be a Viennese café. An unassuming little Art Nouveau gem, it plays host to writers, poets, straight-backed grandmothers and dapper gentlemen…and anyone else looking for respite from the rowdiness of Piazza delle Erbe nearby. Its aperitivo is a classy affair, with little pizzettes, deep-fried stuffed olives and other canapes. Via Salita Pollaiuoli 3, +39-010-246-8193
---
More about Italian spirits on Food Republic: