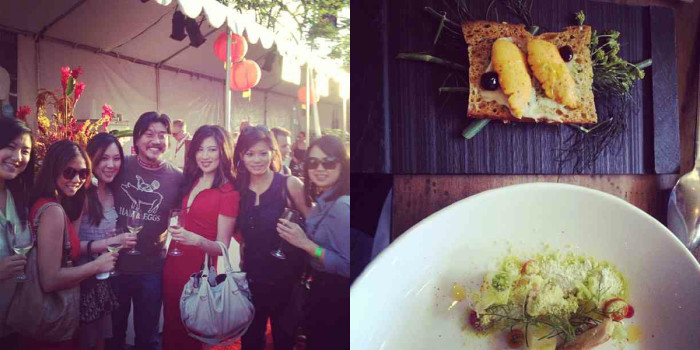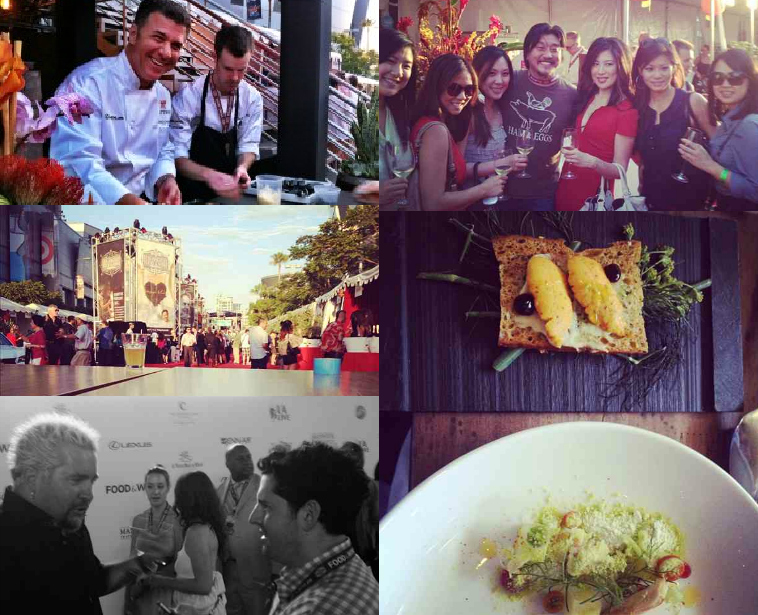 This weekend we decamped to Los Angeles for the 2nd Annual Los Angeles Food & Wine Festival, an upstart bacchanal programmed with cooking demos, private lunches and three giant tasting events held on the plaza at LA LIVE in the city's downtown neighborhood. Here's a recap from the weekend. Also see: Thursday's kickoff Festa Italiana.
FRIDAY
Bryan Voltaggio x Michael Voltaggio Lunch at .ink
Michael Voltaggio wasn't sure how his restaurant ink. would hold up in daylight: it's usually only open for dinner. But this was a special occasion: Michael and his brother Bryan were cooking a four-course lunch with wine pairings. The room has a (West) Hollywood sexiness to it that probably is better showcased after dark, with an open kitchen and original artwork by Raymond Pettibon and Chuck Close, but the sold-out crowd didn't mind munching on the brothers' clever hors d'oeuvres at noon: duck mcnuggets with rhubarb ketchup and a celery root macaroon with "illegal" foie gras that Bryan smuggled in from his Maryland restaurant Volt. Then came the hits: a green salad-soup that showcased California's insanely fresh produce; a diptych dish with sea-urchin fennel toast on one plate and Dungeness crab salad on the other; and a lamb loin and belly plate complemented with wonderfully chewy pumpernickel gnochetti and chanterelles.
Wine pairings were exquisite; the urchin toast played off a robust 2010 pinot noir from Kutch McDougall Ranch, and a 2007 chateauneuf du pape "les cedres" from Paul Jaboulet shared a toothsomeness with the lamb. For dessert? Colorful berries with frozen yogurt—a very lunch-friendly end to a surprisingly lunch-friendly restaurant. — Richard Martin
John Lechleidner x Charles Phan Lunch at WP24
The Slanted Door groupies were in the house. I sat next to one in fact, who was more than happy to shell out 125 large to try Charles Phan's cooking high above Downtown Los Angeles at the Wolfgang Puck-blessed WP24 in the Ritz-Carlton. Phan, a San Francisco legend, opened with a yellowtail sashimi with shallot-lime mignonette followed by duck three-ways from WP24 chef John Lechleidner. It stole the show — Peking-style breast, duck skin in a bun and a fragrant and spicy Chinese duck/pork sausage made for the ultimate triple threat. As The Wolf himself strolled in at the close of the meal, snapping photos and kissing babies, I for the first time witnessed America's first celebrity chef in his natural element. He invented the game. — Matt Rodbard
Scott Conant x Michael Chiarello Lunch at Scarpetta
Summertime Friday afternoons are made for sitting back and enjoying a long, leisurely Italian lunch. Since most of us can't make it to Rome, the fine folks at the Los Angeles Food & Wine Festival arranged a more than suitable substitute: lunch at the Beverly Hills outpost of Scarpetta, where Scott Conant and Michael Chiarello joined forces to serve a four-course meal fit for the re d'Italia. That's King of Italy for those that didn't major in Google Translate. After the brief cocktail hour, Chiarello and Conant got up to say a few words. Then things got real. Pancetta-wrapped salmon with Chiogga beet mostarda was a nice start and mushroom agnolotti with corn and chanterelles were even better, but Chiarello once again stole the show with a wood-grilled lamb chop flanked by cherries, pistachio pesto, roasted cauliflower and fregola. By the time the chocolate souffle came around for dessert, barely anybody had room left to enjoy it. That's what this weekend is all about, though, isn't it? We may have been in Beverly Hills, but that hedonistic enjoyment of food and wine is purely Italian. – Jason Kessler
Asian Night Market Hosted By Andrew Zimmern
There is no denying America's exploding interest in Asian cuisine. While longtime ambassadors like Ming Tsai and Susur Lee continue to popularize their cooking with the PBS-set, it's through strong drinks and casual-coolness at restaurants like A-Frame (Los Angeles), Mission Chinese (San Francisco/NYC) and Night + Market (Los Angeles) that once-foreign concepts like sizzling tofu to char siu bao and fiery papaya salads have found their way to the Pinterest pages of a younger, food-obsessed generation. These worlds came together on the giant red carpet at LA LIVE for an ambitious Asian Night Market hosted by food TV good guy Andrew Zimmern.
Over 30 chefs presented dishes in a walk-around tasting well suited for a large crowd. And with a relatively light $75 ticket price (there was a crazy amount of wine and rum punch from Los Angeles boite La Descarga to go with the grub), this was the weekend's big winner. Some of the highlights? Jet Tila served grilled pork belly and pickled carrots wedged in a fried bun. This is basically my new favorite donut. Ed Lee flew all the way from Louisville to serve wonderful fish-sauce-forward rice cakes. And to hang with some fans. Flash-fried prawns with glazed walnuts from Mr. Chow made me reconsider my never go there unless some rich guy is paying stance on Mr. Chow. Loved David Myers' chili crab. Loved Bryant Ng's skate and sambal hookup. Every city needs to throw their own Asian night market event. — MR
Delicacy Dinner at the Montage Beverly Hills
In lieu of a tribute dinner this year (last year's event honored Daniel Boulud), the big ticket event on Friday night was the Delicacy Dinner at the Montage Beverly Hills, a five-course affair for the one-percent. Scallops with caviar, red abalone, lumache agnolotti and a "calotte de boeuf grillée" were the delicacies in question. And if you don't know what lumache is, don't worry. Nobody else did either. After it was served, Scott Conant came onstage to explain the dish. As it happens, lumache is the Italian word for snails. People were not exactly pleased. Luckily, it was all forgotten by the time dessert rolled around thanks to 40-year-old port and snifters of Johnny Blue. Well-aged spirits have the wonderful ability to wash out any snail-related anger. — JK
SATURDAY
Southern Brunch With Michelle Bernstein and Dean Fearing
Saturday morning's brunch brought together Texas chef Dean Fearing and Michelle Bernstein of Miami to demonstrate how to make staples of the pre-noon Southern diet. Chicken-fried quail, bourbon-cured salmon and creamy fontina grits were all on the menu, and the whole thing had the vibe of a live cooking show with fun banter and a steady stream of verbal Lexus commercials (Lexus was a major sponsor of the festival). Fearing and Bernstein both had some choice quote nuggets. Here are some of the best from the morning:
Fearing got the audience riled up by saying "Oprah has nothing on us. Everybody gets a Lexus!" He then immediately proved himself to be a liar when he reneged on the whole thing. Bernstein and Fearing are the new Ricky and Lucy. When Dean asked Michelle to marry him, she quipped "I like black men, sorry." Good to know, Michy. Good to know. Michelle won over the crowd with a sympathetic statement about the foie controversy in LA. "I'm so sorry about the foie gras ban," she said. "I should have smuggled it in for you guys." Yes. You should have.
The best quote of the morning went to Dean Fearing when he was talking about removing bones from quail. He was telling the audience to find quail that's semi-boneless, but for the die-hard home cooks, he said, "if you want to be a real professional chef and spend the whole afternoon boning…" and then trailed off. Dean, it's a pretty safe assumption that a lot of people in that room would like to spend the whole afternoon boning. Whether or not quail will be involved is a whole other conversation. — JK
Cooking With A Hangovers, Presented By Michael Chiarello
The danger of the morning cooking demo at a fest like Los Angeles Food & Wine is that the featured talent will have fulfilled their duty as chefs and partied hard the previous night. In Salons 4-9 of the JW Marriott Hotel at LA LIVE, this manifested itself in wildly unpredictable, somewhat racy presentations from top chefs. On Saturday morning, Michael Chiarello, still unflappable at 50, noted his early morning exploits and said he was following the chefs' unwritten rule of powering through no matter the level of hangover: "We cowboy up each and every day." His loose cooking demo included polenta meatballs, salt-roasted whole sea bass, a hilarious Paula Deen impersonation and advice for the home cook like this: "Never cook for anybody you don't like." — RM
Live On The Plaza With Wolfgang Puck & Friends
Wolfgang Puck is the undisputed king of celebrity chefdom in Los Angeles. He hosted a benefit walk-around tasting at LA LIVE that brought together his friends (some B.F.F.s too, we can assume) with a Third Eye Blind concert at the end. Miami chef Michelle Bernstein brought her A-game (see below). Nathan Eckhaus, from New York's South Gate, brought together local sugar snap peas and Gioia burrata. William Bradley, from San Diego's Addison Restaurant, did a warm cheese puff that brought some serious crowds. Then Third Eye Blind played some songs and everybody partied like it was 1997. — MR
Amidst the boys' club of celeb chefs, two hard-working Miami gals shined at Wolfgang Puck's Saturday night Lexus Live On The Plaza event. While other visiting chefs brought in bootlegged foie gras to buck the California ban, Michelle Bernstein packed her bags with fresh cobia from the waters off her hometown Miami, then mixed the white fish in a delicious tropical bouillabaise (of sorts) a vuelve à la vida ceviche with Uni chantilly. Her neighbor in the 305, pastry chef extraordinaire Hedy Goldsmith of Michael's Genuine Food & Drink, stood across the red carpet in a booth showcasing her forthcoming cookbook Baking Out Loud: Fun Desserts With Big Flavors (available October 2). Oh yeah, and her little cup-fulls of bittersweet chocolate cake with curry and cardamom were transcendent treats that made us yearn for a trip back to Miami soon. — RM
An exchange with Guy Fieri
It's probably that wearing sunglasses on the back of the head thing, or the sweatband on the forearm thing. Or that he's known for preparing dishes like bacon jalapeño duck appe-tappas. Who knows, but people get really get pissed off at the mention of Guy Fieri. But here's the thing. I've met him a couple times at food festivals and have to say: Dude is really, really nice. And listens to what you have to say and makes really good eye contact while listening to those things.
On the red carpet of the Wolfgang Puck & Friends event Saturday night, I asked Guy about what he thought about Third Eye Blind headlining, specifically about the recent resurgence of mid-'90s alt-rock bands. "It's great that people get to hear them live for the first time like this," he said with trademark positivity. "Like my son the other day, I told him I was going to have lunch with Billy [Corgan] from the Smashing Pumpkins, and he didn't know who he was. So I played him some of it and it was really great." Guy also mentioned that he was having dinner soon with Gene Simmons. — MR
SUNDAY
Cooking With A Hangover, Presented By The Voltaggio Brothers
Sunday morning, Michael and Bryan Voltaggio took to the stage at the JW Marriott with a single recipe on tap: coffee cake. The fiery Michael, dressed in a Black Flag–referencing Foie Gras t-shirt (he explained that the chef coat provided was too tight on him), swigged mimosas from a champagne bottle and tried to come up with a title for the presentation, which eventually led him to "Hungover with the Voltaggios." The crowd wasn't impressed with the rough start, but when they too were given mimosas — and later, coffee cake — the mood turned festive. As Bryan played straight man and worked his way mundanely through a coffee cake recipe, Michael wowed with his science experiment take on cooking, whipping up potato cigars and egg gnocchi. This was one hungover cooking demo that could actually make good TV. Oh, and the coffee cake was delicious. — RM