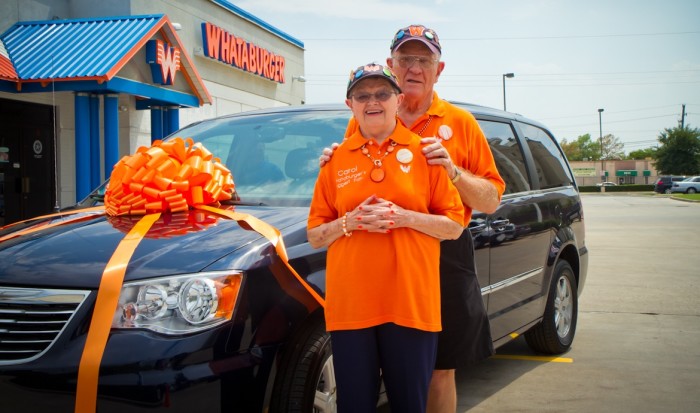 The world's biggest burger fans have completed their incredible journey! Karl and Carol Hoepfner, a retired couple from Rockport, TX, have succeeded in their quest to visit each of Whataburger's 729 locations. The trek covered 10 states and the couple of 55 years ventured as far west as Arizona during their adventures, which began in April 2011.
The former Master Sergeants in the U.S. Air Force were selected in November 2010 as Whataburger's Biggest Fans after writing a 400-word essay detailing why Whataburger is their favorite place to eat. At this point, the couple had already eaten more than 7,000 meals at the popular burger joint. Even though Karl and Carol won around $8,600 in gift cards in the contest, they decided to donate much of their earnings to others.
In a celebration yesterday honoring the couple's accomplishments, Karl described how the tour began after his wife was diagnosed with a rare form of eye cancer. The two debated what to do during the day, as her frequent radiation treatments took place at night. "We thought we'd go out and visit a few Whataburgers. We found out that there were 90-plus in the Houston area, so once we got done with those, we figured, 'What the heck, why not do 'em all?'" Karl said, to much laughter at the ceremony.
The Hoepfners will have a new way to visit any new locations of Whataburger. As congratulations to the couple, Whataburger presented them with a new minivan. "I suspect that the new minivan will have a bumper sticker on it that says, 'Follow me to Whataburger,'" joked Hugh Dobson, son of Whataburger founder Harmon Dobson.
Check out these burger recipes on Food Republic: