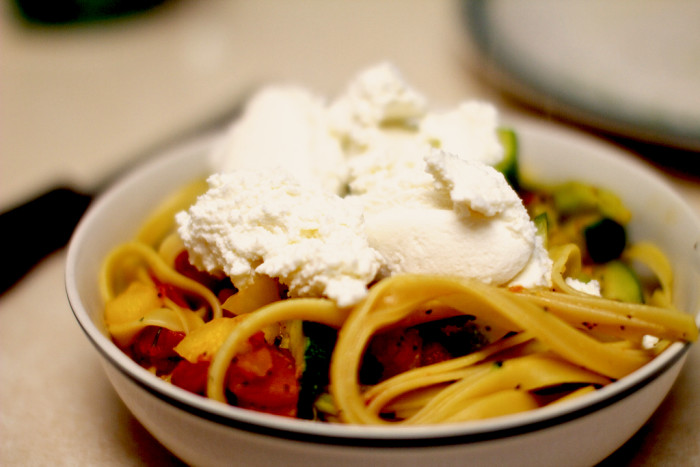 I hereby declare all ricotta to be free cheese. Not free like you don't have to pay for it, you definitely still do, but I would like to let ricotta know that it's officially no longer confined to its pasta hiding places — ravioli, manicotti, canneloni, agnolatti, mezzaluna, shells — you get the point. Free-form pasta with ricotta is the free-spirited flower child of the Italian food world.
Ricotta clings without really melting and "melts" without separating and becoming oily. It's mildly cheesy in that you know it's cheese with none of the aging that requires thoughtful pairing. Best of all, you can make it; it's super easy. Literally everything goes with ricotta: strawberries, pancakes, spinach, pie crust, honey, any stuffable protein. But pasta still loves it even if it isn't smothering it with dough. Here are some super-simple pasta ideas that honor ricotta's perfect simplicity and all the unfussy ingredients that go with it.
Farfalle with ricotta, leftover poached salmon, thinly sliced cucumbers, lemon zest and fresh dill
Rigatoni with authentic bolognese (no soupy tomato-ness, that's not bolognaise) with ricotta and caramelized mirepoix
Instead of heavy cream in your penne à la vodka
And my personal favorite: spaghetti with ricotta, extra-virgin olive oil, tons of fresh coarsely ground black pepper and a fresh grating of pecorino
Pasta too heavy? Here are two salad recipes featuring the fluffy stuff:
Now take your ricotta freedom and exercise it.
---
More Italian food for lunch on Food Republic: