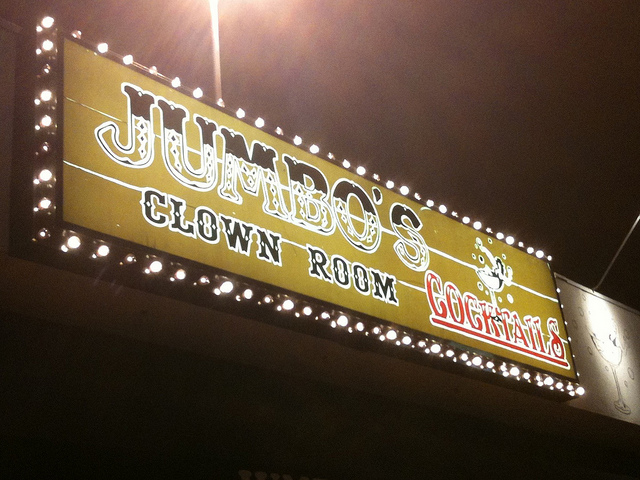 When it comes to cocktails, Simon Ford is the guy to know. After earning a Wine and Spirits Education Certificate in the UK, he went on to work for Seagrams and now holds the heady title of Global Spirits & Cocktail Brand Expert for Pernod Ricard USA. For real, it's on his business card. In Simon's weekly column, Drink Ford Tough, he tells you everything you ever needed to know about the art of the cocktail. And how to drink better.
I was recently at one of my favorite bars and noticed the bartender grab two small rocks glasses, fill them with small ice, free-pour Canadian Club and sweet vermouth, and serve both with a cherry. I was impressed that the bartender had the recipe and ingredients to make this drink; he even added a dash of Angostura bitters from a bottle that looked like it had been there since the bar opened sometime in the early 80s.
I still wouldn't want to drink it, however, and was left wondering why a customer in this situation was ordering Manhattans. You see, we were at a dive bar and I was eating a burger and drinking a Guinness. If I had wanted a Manhattan, I would have gone to Pegu Club.
Dive bars help make the world go 'round: they are not fussy, they have good music, they are a little dirty and you really do not want to see them with the lights up. Additionally, they often have a very limited selection of booze. They are a place where you can drink with no judgment and have a great time, and, nine times out of ten, they will let you in with no problem. They may have pool tables if you are lucky, and you might even find Buck Hunter.
The types of dive bars that I enjoy are the ones that have the feel of a dive, but where you can actually get a decent drink — even if you will still most likely order a beer and a shot. Here are a few general tips about drinking at dive bars, followed by a list of some of my favorite dive bars in the United States.
You go to dive bars for beers and shots, period! There has been a welcoming trend of more local beers being served on tap. Guinness is always a good bet, and I would recommend anything from the Brooklyn Brewery or Yuengling, America's oldest brewery. You just have to hope that they clean the pipes!
On the topic of shots, there's a general rule of thumb: dive bars have pretty solid whiskey selections. You do not know what you are going to get with spirits like tequila, gin or rum. Jameson is always a safe shot to order.
This should go without saying, but stay far away from anything being served in a test tube. Also, remember that their specials are probably "special" for a reason. I would avoid any shot or drink containing Jägermeister, but that might just be my getting too old.
Always be wary of the dreaded soda gun behind the bar. Stick with the soda water and colas: I would recommend against ordering tonic. You will know pretty soon whether it has been cleaned recently or not.
Never forget that you are at a dive bar! Stick to simple mixed drink orders: Dark and Stormy, Jameson and ginger or a Cuba Libre (white rum, coca cola, lime). Dive bars should have some ingredients like freshly squeezed lime juice, but do not expect too much creativity.
And here are some of my favorite dive bars around the country
The Alibi (New Orleans)
The hub of every Tales of the Cocktail that I have attended and perhaps one of the best names of a bar in the world, The Alibi is a perfect den of sin. They serve dive bar obligatory fried food, bad beer, plenty of cheap shots and because you are in New Orleans, you can stay until sunrise. 811 Iberville Street, 504-522-9187, alibineworleans.com
d.b.a. (New Orleans)
Far enough from the noise on Bourbon Street that it is cool, d.b.a. features a vibrant live music scene, along with amazing whiskey and beer selections. 618 Frenchmen Street, 504-942-3731, Dbabars.com/dbano
Bar Deville (Chicago)
Owner Brad Bolt is an absurdly good bartender and could knock out any great cocktail, but he is more comfortable taking cash only for beer and shots of Malört. 701 N Damen Avenue, 312-929-2349, bardeville.com
Double Down Saloon (Las Vegas)
Known as "The Happiest Place on Earth," this rowdy saloon promotes a philosophy of "shut up and drink," while rigorously enforcing a policy of "you puke, you clean" regarding their signature drink, the fabled Ass Juice. 4640 Paradise Road, 702-791-5775, doubledownsaloon.com
Jumbo's Clown Room (Los Angeles)
Scantily clad women rock it out on the stage and people drink beer out of cans. You will see bankers, movies stars and homeless people mingle. 5153 Hollywood Boulevard, 323-666-1187, jumbos.com
Daddy O's (New York)
While it is debatable whether Daddy O's qualifies as a dive bar, I know that owner Phil Casaceli opened with hopes of it being an upscale dive. This intention shows if you look at the bark bar, where you will find an amazing range of spirits and great versions of dive bar food. Phil also has great taste in rock music. 44 Bedford Street, 212-414-8884, daddyonyc.com
NYE's Polonaise Room (Minneapolis)
This bar is a former Esquire Best Bar in America and has been around since 1950. It is a great neighborhood Polish bar where you can get good Polish food, beer and martinis. 112 E Hennepin Avenue, 612-379-2021,nyespolonaise.com
More Drink Ford Tough on Food Republic: