4 Things You Probably Didn't Know About Neapolitan Pizza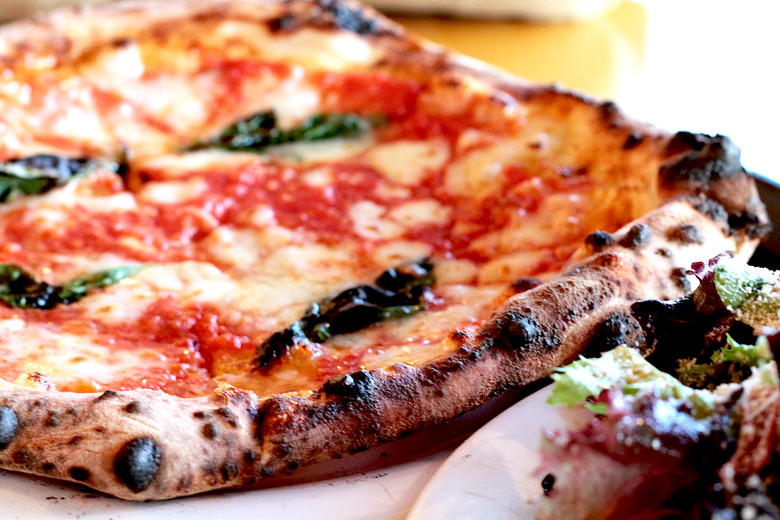 Jarett Appell, executive chef and pizzaiolo at restarateur Donatella Arpaia's flagship Donatella, may be a young'un at 31, but his passion for authentic Neapolitan pizza has earned him the title of master. Appell studied at the Vera Pizza Napoletana in Naples under famed 4th-generation pizzaioli Enzo Coccia, then continued on to cook in restaurants around Italy, finally landing in New York.
As soon as Arpaia discovered and hired him, she sent him right back to Naples to continue learning the intricacies of Neapolitan pizza and train to be executive chef. Upon his return, Appell hit the ground running at Dontella — and hasn't looked back. And why would he? The restaurant's massive pizza oven is decked out in sparkly gold tile mosaic with "DONATELLA" in huge letters. The cooks refer to it as "her." As in, "we have a lot of respect for her," and "she treats us right."
Appell shared four crucial pieces of pizza...wisdom, and inspired me to install a huge wood-burning oven in my Manhattan studio (ideally in sparkly gold). I'll let you know how that goes.
1. Making Neapolitan pizza properly at home is really difficult unless you have a wood-burning oven
"The flame is one of the most fundamental elements of making a great pizza because that's what makes the crust rise. Without actual flame you're going to have a flat pizza," says Appell. "You need about 800-1,000 degrees so you're just cooking it 45 to 60 seconds. Sometimes you want to lift the wood up to heat up your floor or leave it there — there are certain games you can play."
2. The dough has its life cycle
"Determining when's the ideal time to use the dough takes a little experience. When you get a lot of blisters on the crust, that's actually not ideal — that means the dough is cold or underrisen or overrisen. If you really want to try to make great dough and master it, take into consideration the weather you have. Whether it's summer or humid or dry, if it's humid, you'll need more flour. If it's drier, less flour or your dough is going to come out hard. It also changes with yeast, if it's hot and the AC isn't blowing right on it, use less yeast or it's going to rise really quickly."
3. Flour changes, and one variety is king
"In a restaurant, if the flour's been in a storeroom for weeks, it absorbs humidity and moisture which changes it. We use Caputo flour from an old mill in Naples — they have the lockdown on pizza flour in Naples, pretty much every single pizzeria uses it. What's unique is that they use grains from all across the world to get the necessary elements of Neapolitan dough. Caputo will pull grains from Cananda, America, all over Europe and test it to find the perfect balance to find the chemical makeup of what they're looking for. I've been to their mill, they have all kind of crazy machines to calculate it."
4. When it comes to a pizza oven, use two types of wood
"When it comes to the oven, you want to really have two different types of wood, obviously untreated, but one dense and one light. Ideally oak and birch, they're the best. Your denser wood has a lot of potential energy so it's going to heat the floor of the oven and the internal temperature itself, versus light wood which is going to create flame. Both are significant. Having such a great oven here helps a lot, but at the same time if you don't know how to drive stick you have no business driving a Ferrari."
More pizza knowledge on Food Republic: