Reintroducing Champagne Charlie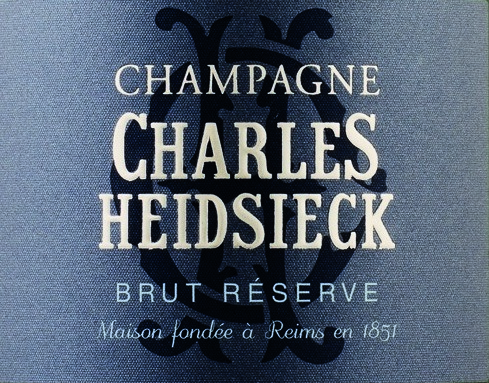 Most Americans today know Moët, Veuve Cliquot and Krug. But in the 1850s, the bubbly on everyone's lips – and tongues – was Charles Heidsieck. Named for the man who made it, Charles Heidsieck – both the man and the bubbles, actually – were the total cat's meow, the toast of New York, New Orleans and every other city worth its salt back then.
Charles (the guy) was one of the first champagne producers to make the trek to America from France and is largely credited with introducing Americans to champagne. And, boy, did they love him for it. They renamed him Champagne Charlie; a gentleman and a dandy if ever there was one, he became an immediate rock star among the social set of the era.
Women wanted him and men wanted to be him...a popular performer of the time even wrote a song about him. It was called, of course, "Champagne Charlie" — which was also the name of a 1989 movie made about this colorful character, starring the modern-day dandy Hugh Grant.
The attention bewildered Charlie, but that didn't stop him from selling his top-notch bubbly to America's rich and famous. By the time the American Civil War kicked off, he was back home in France, but with more than half his company's assets tied up in unpaid U.S. accounts, Charlie returned to America. This time, however, he was met much less exuberantly: his broke clients could not afford to pay him. In the course of trying to track down his money, he was captured by Union forces in New Orleans and imprisoned under suspicion of espionage for several months. Napoleon III even lobbied Abraham Lincoln for his release.
Charlie was freed eventually and returned to France, himself in a mound of debt. Not long after, however, the brother of one of his old clients contacted Charlie to offer him as a belated payment the deeds to some land in what would one day become the wealthy city of Denver. He was able to recover his losses and relaunch his champagne house.
So, why tell you this story now?
Today, the house of Charles Heidsieck is once again being relaunched. It was recently bought by a French family and revived in a spirit that Charlie himself would have endorsed. That means making very special sparklers to very exacting standards.
For one, it uses the maximum amount of reserve wine in its Brut Reserve: 40% (in non-vintage champagne, a certain percentage of aged wine is used, which is usually what defines the "house style"; typically, producers use 5-10% reserve wine, so 40% is kinda crazy). And the reserve wines used are on average 10 years old, as opposed to the usual four or five years in other champagnes. What's more, the champagne is kept in the labyrinthine 2,000-year-old chalk cellar for a minimum of three years before being released, allowing it to come into its own. (The new release, available in September, is from 2007).
"We want to maintain Charles' impertinent attitude," says Cécile Bonnefond, the company's new CEO. She and her new cellar master, Thierry Roset, tend to refer to the champagne as "Charles," like it's a person, perhaps even indistinguishable from the long-gone man. As in, "Charles needs room to breath." In other words, serve it in a white wine glass as opposed to a flute.
Charles Heidsieck Brut Reserve ($65) and Rosé Reserve ($80) are two of the most beautiful bubblies you're likely to taste. Made in a distinctly slow and precise style, each is marked by pretty aromatics, a racy minerality and warm fruit flavors. But if you're looking to sip like a true baller, look for the 1995 Blanc des Millénaires ($185), a striking champagne with intoxicating aromas and a deep, golden color. Despite its age, it's still fresh and lively, full of apricot, dried flowers and a hint of toasted almond. Ballers, after all, are just dandies with more swagger.
More about champagne on Food Republic: