Even though PABU, the newest entry in Michael Mina's growing constellation of restaurants — it's number 20 for the superstar chef-slash-restauranteur — don't expect the same old song and dance.
For his second Baltimore-based project (located adjacent to the Four Seasons Hotel), Mina teamed up with chef Ken Tominaga, the chef and owner of Sonoma County's Hana Japanese Restaurant, to create a modern Izakaya, offering sake and other potables with food to match — sort of like a Japanese gastropub, only better.
Whether you're snacking on small plates or staying for a full meal, the ultimate "amuse-bouche" might just be the Happy Spoon, a raw local oyster, swimming in a milky ponzu-flavored crème fraîche, beautifully composed under fresh uni and two types of fish roe. The subtle blend of varying flavors—sweet and salty, oceanic and bright—and contrasting textures makes for a dish that lives up to its name and image.
Here, PABU's Executive Chef Jonah Kim takes us through the components of this single-serving delight.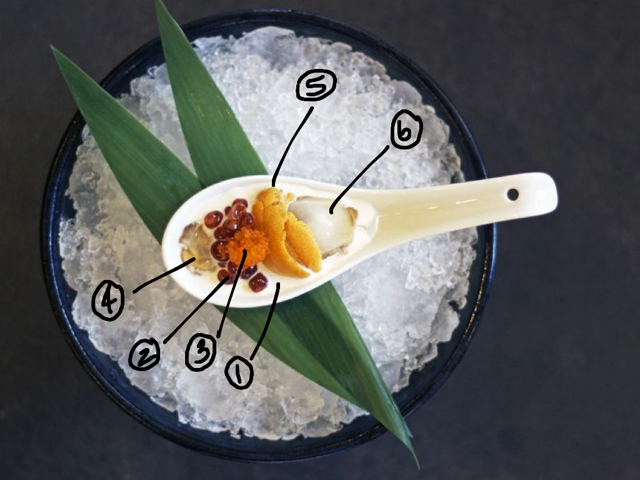 1. Ponzu crème fraîche | "We use Kendall Farms crème fraîche, which has a higher butterfat content (40%) than normal crème fraîche (30%)," says Kim, who mixes it with ponzu, a soy-based sauce, to add acidity and brightness to the dish.
2. House-cured ikura | The ikura (salmon roe) is marinated overnight in junmai sake, mirin and soy sauce.
3. Tobiko | Smaller than the ikura, the bright orange tobiko (flying fish roe) brings a crunchy texture to the dish.
4 and 6. Raw oyster | "We use a local Rappahannock Olde Salt oyster from Chincoteague Bay because it's not overly briny, and the small cup of the oyster makes it just the right size."
5. Uni | Delivered from Santa Barbara, CA, the sea urchin adds a richness and "ocean-like sweetness" to the dessert.
PABU, 725 Aliceanna St., Baltimore, MD, 410-223-1460