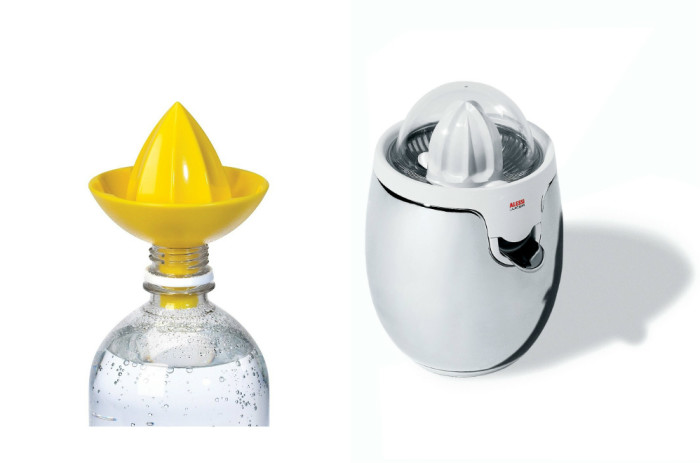 Call us design snobs, but even the most basic kitchen tasks can feel appreciably cooler when you've got better-looking tools at your fingertips. Of course almost any humble task these days can easily translate to silly, rigged-up products (remember the twirling spaghetti fork?), but we're talking about that happy medium where form meets function, resulting in far more interesting countertop display.
Case in point: the citrus juicer, a simple instrument that almost infallibly bears a ridged bulb in the center for maximum contact when you're trying to ream every last drop from your oranges, lemons, grapefruits or limes. Alessi's egg-shaped electric juicer, designed by Stefano Giovannoni, has been a constant favorite amongst kitchen aesthetes for nearly a decade now. Compact and streamlined, the discreet stainless steel orb is a testament to the timelessness of good design.
We recently came across Umbra's new Sombrero juicer, another one that's hard not to love. Equally simple, and obviously not without its specific uses, the sombrero differs in just about every form and format, from color and materials to price and portability. But like Alessi's model, it's the overall design smartly blending with its purpose that scores points.
Which is your preferred juicer?
Alessi's electric citrus juicer is $195 at Hive.
Umbra's Sombrero juicer is $5 at Umbra's online store.