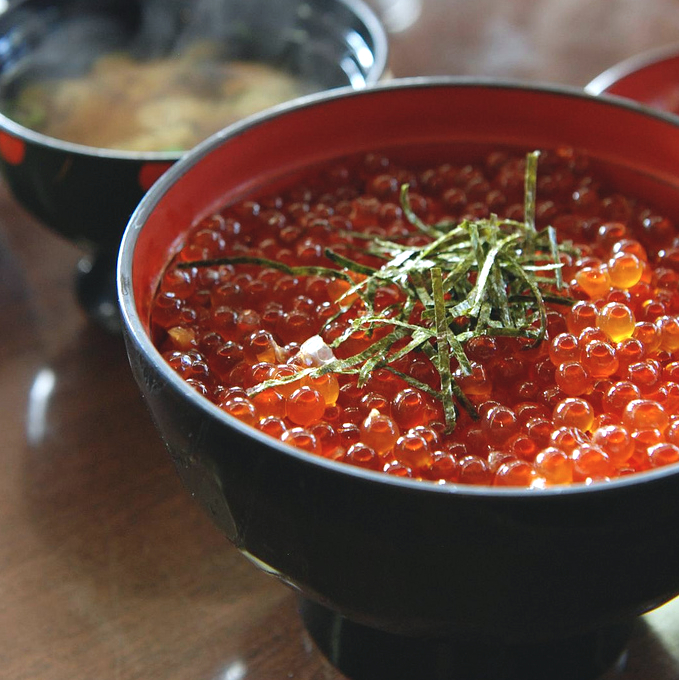 The same sushi place that makes a salmon skin roll so good I felt compelled to call crushed deep-fried salmon skin the new bacon bits makes another really awesome roll. It's very simple — no cream cheese or bananas or even sriracha mayo (have you not read our 12 sushi commandments?), just two perfect ingredients: cucumber and tobiko, or flying fish roe. Fish roe in general, though, not even caviar, will amp up a bland lunch. I see you need convincing.
Having anything Asian on, with or around rice for lunch? Topping it with salmon or flying fish roe adds crunch, texture, salt, umami, a ton of omega-3s and yes, that slight hint of fishiness that causes some people to shell out a thousand bucks for a half-ounce. Regular folks rejoice! Both types of the orange stuff are entirely affordable — less than $5 for a lunch's worth — and can be found at most Asian supermarkets.
Alongside prepackaged bulgogi bowls and questionable styrofoam packs of sashimi, some markets sell roe rice, one of my favorite lunches, ever. It's simply three kinds of tobiko — red, green and black — dolloped onto a bowl of rice, with sliced radishes, nori flakes and sesame seeds. I add a little sesame oil and a squeeze of lemon. It's light, healthy and really delicious.
Another way to do it is by exercising your right to lopsided, lumpy sushi. My sushi-making abilities are why I never whip out the bamboo mat for dinner guests: I absolutely suck at it. Why don't you take a sushi class, Jess? Well aren't we full of ideas this Monday morning! Anyway, when I get my hands on really great fish roe, the first thing I want is homemade temaki, or hand rolls. These are slightly easier to make.
Just spread a thin layer of sushi rice over a square of nori using slightly moistened fingers to keep the rice from sticking, fill with fish eggs and roll into a cone or cylinder. You can even make a rice ball this way: make a patty out of rice the same way you'd make a burger patty, stuff the middle with roe, place another rice patty on top and compress slightly between two sheets of plastic wrap to seal. Actually you can make a stuffed burger that way, too.
One more way to introduce this versatile ingredient into your diet is by adding it to noodles. Try it tossed with chilled soba noodles with a little silken tofu, scallions, soy sauce and sesame oil, a dollop or two on top of your ramen or even with spaghetti, olive oil, garlic and chile flakes.
Fancy. But not really.
More Asian food for lunch on Food Republic: