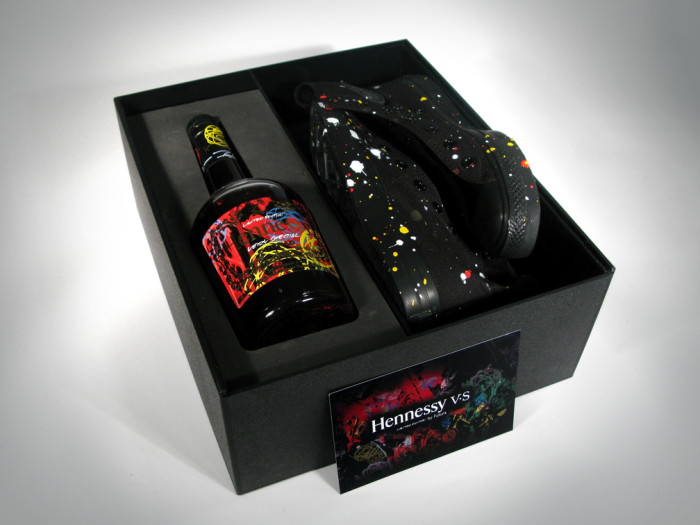 Too many brand collaborations are gimmicky, or come off as cheap and phoned in. Not this Hennessy VS Limited Edition by Futura set, which pairs the legendary Cognac with the legendary graffiti artist. Futura designed the label for this bottle, which is available as a numbered edition of 200,000.
To promote the new bottle, which follows a similar collaboration with Futura's old buddy KAWS, a promotional box featuring a Futura-splattered pair of Black Converse Chuck Taylors (pictured) showed up on some lucky folks' doorsteps (including ours). We imagine there'll be a few available at Colette in Paris or on eBay soon enough. But no matter, cop a bottle of Hennesy VS Limited Edition by Futura and put it "on ice," as they say in the sneaker game. (The bottles go on sale in the U.S. August 15, $32 for 750 ml.)
Or better yet, find a nice shelf to display the bottle on, and appreciate it as a piece of art. And why is this collaboration better than most? Well if you're not familiar with Futura, you should be. Along with better known artists like Basquiat and Keith Haring, he helped graffiti transition from a derided art form often described as vandalism to a respectable expression with gallery potential. Hennessy goes out of its way to let you know more about the artist and man in this video made to accompany the new release. Check it out, and afterwards, visit the interactive site for the project.