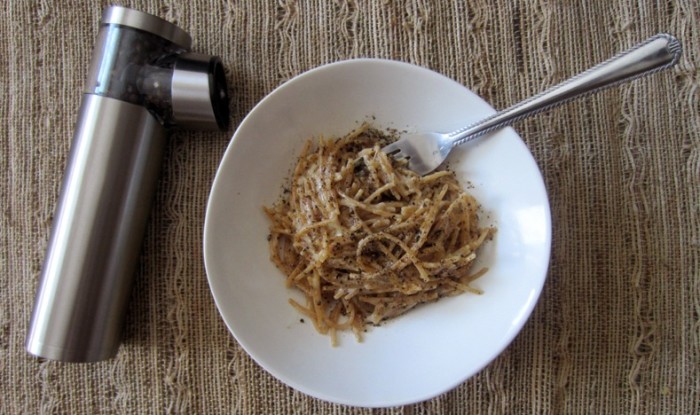 When it comes to black pepper, you really should leave pre-ground tins to lazy cooks and paper packets to freegans. Fresh cracked, with its superior flavor and aroma, is the only way to go. All you need is the perfect pepper mill. With many (probably too many!) designs on the market, there's something to suit every taste. You can go with hand cranked or electric; wood, glass or metal; antique or disposable.
The new William Bounds Robo Steel Pepper Mill is one option for the gadget-happy home chef. Give it a tilt and the stainless steel battery-operated unit automatically grinds pepper into your pan or onto your plate. To see how it performed, we used the grinder to tackle a recipe for cacio e pepe (literally, cheese and pepper) — a traditional Roman pasta dish that takes the ordinary supermarket spice to new heights.
Positive (+)
The gadget, incredibly, is simple to operate. Just install the batteries and tip it at an angle to grind. Twenty seconds of grinding yielded half a teaspoon of pepper.
An LED light is a frivolous extra (unless you plan on cooking or dining in the dark), but nevertheless it shone on our food as it was being seasoned. An adjustable knob allowed us to choose between a fine and coarse grind, and a clear acrylic storage unit let us know when it was time to reload peppercorns.
As for looks, the stainless steel body was heavy but sleek. It's a nice fit in a modern kitchen and makes a statement on the dinner table.
Negative (-)
Unfortunately, the coarsest setting on the mill was not coarse enough for our tastes. Recipes for pepper-crusted meat, such as steak au poivre, would require a separate tool — such as a mortar and pestle — for rougher grinds. Requiring three AAA batteries can also be a minor inconvenience. Finally, cost was an issue: together with a matching salt mill, expect to spend over $100 to store your everyday condiments.
Verdict
After a week in our kitchen, the novelty of this item hasn't worn off. The sound of the mill's motor accompanies every meal. It's an expensive investment, but one that ultimately will pay off in tastier food and endless oohs-and-ahhs from dinner guests. William Bounds Robo Steel Pepper Mill, $51, amazon.com
---
More Gourmet Gadget Tests on Food Republic: