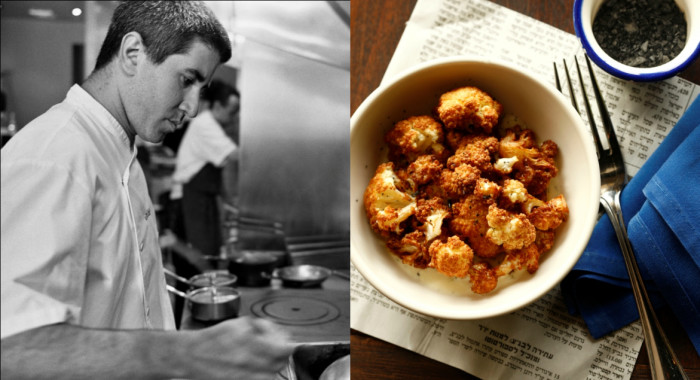 It seems that Anthony Bourdain was in Philadelphia yesterday filming for an upcoming episode of The Layover. It also appears that he just discovered Philadelphia has a restaurant scene outside of the obvious Marc Vetri joints. "What can I say? I should have come here sooner," he told Eater Philly in an interview (from one of the obvious Marc Vetri joints). We love Marc Vetri, no doubt. The man has seen some things. But we also hope Bourdain was able to make it over to Society Hill to visit with Michael Solomonov at Zahav. Because, point blank, Zahav is the most exciting restaurant in the city, if not the entire East Coast (that includes YOU New York City).
Before he opened in 2008, Israeli cuisine was hardly on the radar in the United States. We all knew about the country's incredible produce and green falafels found on the streets of Tel Aviv. But a mezze of raw lamb, walnuts and sumac shallots or fried haloumi paired with dates, almonds and mustard greens while golden-fried cauliflower florets? Solomonov, a Vetri protégé, was making some serious noise. The James Beard Foundation was listening, naming him Best Chef Mid-Atlantic in 2011. Others have followed in bringing Israeli cooking to the masses.
And now, after nearly four years of mostly family-style cooking, Solomonov is flexing his muscles a bit with a nightly four-seat chef's table. The Kitchen Counter at Zahav will serve a 10-course tasting menu on Friday and Saturday (though, we'll bet he expands the nights later in the year).
To reserve a seat you should email counter@zahavrestaurant.com at noon on the first of the month for the following month. So, on August 1 for the following September. And, yes, we will be emailing as well.
---
More on Israeli cuisine on Food Republic: