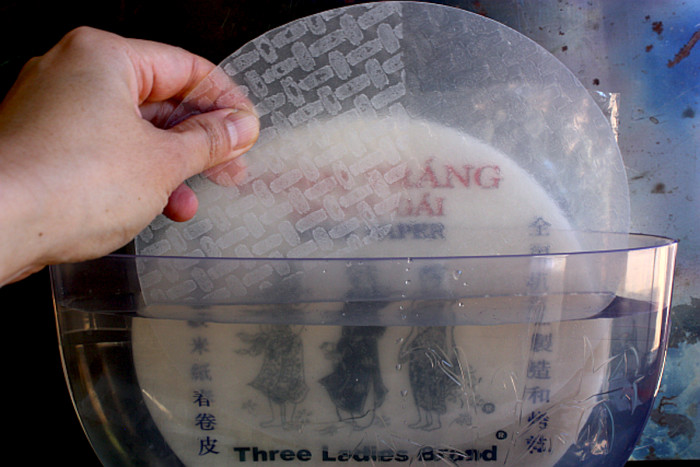 Guess what's more fun to play with than pasta dough? Not that I don't love when my dough turns out crumbly or too stiff to roll into anything but caostelli, which is my name for "crazy ugly hunks of pasta." I do. But I've started substituting Korean and Vietnamese rice wrappers, dduk bo ssam (like the extra consonants?) and bánh tráng respectively, into homemade pasta applications. They're light, delicious and gluten-free.
Now I know what you're thinking: Asian and Italian food don't go together. So don't make them together. I'm not rolling up Vietnamese shrimp summer rolls Parmeggiano or grilling a mess of kalbi to top truffle polenta, I'm seriously making gluten-free ravioli, manicotti and occasionally, when the conditions are just right, tortellini, all without dropping $10 on probable grossness at Kale-Drinking Crunchmart.
It's not like Asian rice wrappers are born infused with soy sauce and sesame oil and coated with a layer of repellent that doesn't allow you to roll or stuff with ricotta and top with marinara. My good friend Martha Rose Shulman, who writes the Recipes for Health column for The New York Times, introduced me to the idea of Asian rice noodles with simple Italian ingredients, like zucchini, fresh mint and tomatoes. With her sage guidance, I took off.
Rather than stick to noodles and noodley applications, I tackled the issue of "there's no rice ravioli or if there is it most definitely sucks," grabbed my trusty biscuit cutter, and started placing filling between two barely soaked Vietnamese rice wrappers, sealing with a little cornstarch water, stamping out with the cutter, lightly cooking in simmering water and churning out gluten-free ravioli that truly highlights the interior without distraction from the thick, eggy exterior.
I used the summer roll technique to make manicotti and with some practice, even managed to fold some rudimenary tortellini. With Korean dduk bo ssam I accomplished the same, with a thicker more homemade pasta dough texture. Here are some winning fillings:
Classic ricotta, parmesan and spinach
Ground sausage, sautéed red and green peppers and broccoli rabe
Goat cheese, thyme and wild mushrooms
"Totally cliché but that's why it works" butternut squash and sage
Chopped grilled vegetables with lemon zest and rosemary
All topped with the freshest, most homemade tomato sauce you can find. Which means making fresh tomato sauce out of fresh tomatoes. That's still essential. Voilà, Asian-Italian fusion done right.
---
More rice noodles for lunch on Food Republic: