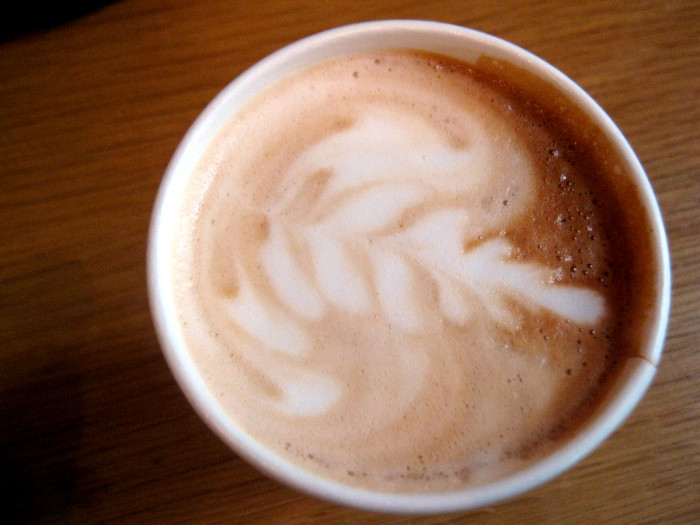 The time for our seasonal look at the world of coffee is upon us. This go around, we're starting our Coffee Power Rankings from scratch.
We've been caffeinating pretty hard these past few months and in the process discovered a slew of new craft roasters, cafés, coffee farmers, brew equipment designers and other hardcore java luminaries. If you prefer to caffeinate correctly, here are the folks you should know.
See previous rankings from February 2012 and April 2012.
10. Uri Ort | KosherStarbucks.com
Ever wonder just how kosher your morning Frappuccino is? Well, it's not. But an Iced Skinny Flavored Latte? Go nuts. You can check this handy website for other kosher drinks sold at your friendly neighborhood Starbucks. Co-founded by Uri Ort, a self-proclaimed Starbucks addict, the site has been steering the devout to the chain's acceptable espresso drinks since 2007.
9. "Llewellyn Sinclair" | Sprudge.com
If the name sounds familiar, it's because he was a Simpsons character, the irascible director of the Streetcar Named Desire musical. Either the animated character is based on a serious coffee geek or it's a pseudonym for Zachary Carlsen and Jordan Michelman, the creators of Sprudge. The website has become an online bible for baristas and brew heads, proclaiming itself "The World's Most Trusted Coffee Tabloid."
8. Michael Horn | Craft Coffee
So, you want your coffee to be roasted locally. Does it matter if your local craft roaster is not actually local to you? Craft Coffee is a bean subscription service that delivers artisanally roasted beans from small roasters across the country to your door. For as little as $20 a month with free shipping, you can get beans from such craft roasteries as Coava in Portland, Dogwood in Minneapolis and PT's Roasting Co. in Kansas. Small world, right?
7. Jeff Givens | Southern Skies Coffee Roasters
This super-small-batch artisanal roaster located in Carroll County, Maryland, provides beans for restaurants and cafés in and around Baltimore. It's mostly manned by owner Jeff Givens, who believes coffee is, above all, a seasonal product. Of course, good coffee beans are always in season somewhere on the planet. The key is to find them, then not screw up the roasting of them.
6. George Howell | Terroir
He was the founder of upscale coffee chain Coffee Connection, which he sold to Starbucks in the 1990s. Then, he helped create the Cup of Excellence, a program that rewards exceptionally raised coffee beans. In addition to speaking engagements at various coffee conventions and industry events, George Howell now spends his time roasting beans in Massachusetts. His first-rate coffee can be found at select restaurants and coffee bars around Boston, New York and beyond.
5. Chris McLean and Bruce Constantine | Espro
These Vancouver-based partners set out to create a new way of brewing coffee and used Kickstarter to fund it. Their Espro Press is designed to work like a French press, but better. It uses an ultra-fine metal mesh and vacuum seal to reduce sediment without eliminating it altogether for a cleaner, but still bold, cup of coffee. The device is made of stainless steel – so much sturdier than the French press' glass beaker. It's sold pretty widely now, including on Amazon for $70.
4. The Aguirre Family | Finca El Injerto
This third– and fourth-generation family-owned coffee estate in Guatemala is run on a foundation of social and environmental responsibility. That means using compost instead of pesticides and making sure employees are happy and healthy. The farm provides beans to Stumptown and other craft roasters, and at a recent auction, a lot of its raw beans sold for a mind-boggling $500.50 a pound.
3. Keith Gehrke | Able Brewing
Creator of the acclaimed Kone, the stainless steel filter for pour-over now in its third edition, Keith Gehrke has also used Kickstarter to help expand his business. The overwhelming support he received allowed him to move forward with the Kone Brewing System, a ceramic pour-over brewer made by a local ceramics studio in Portland. Once the coffee is ready, the part that holds the Kone filter can be removed and replaced with a lid for a simple, handsome coffee pot.
2. Todd Carmichael and Jean Philippe Iberti, | La Colombe Torréfaction
The outspoken figureheads of this Philadelphia-based roaster (well, at least one of them is rather outspoken) are more than just purists and peddlers of properly roasted beans. They are also environmental and social activists. Most recently, they launched a magazine, the first issue of which features a profile of chef Sean Brock and a field report from Haiti. La Colombe also introduced Pure Black bottled coffee.
1. Peter Giuliano | Director and co-owner of Counter Culture
This craft roaster continues to impress and enthrall. As an advocate of direct-trade, single-origin coffee, Peter Giuliano takes baristas from around the country to coffee-producing regions so that they can see what really goes into farming coffee. In addition to geeky single-estate and microlot offerings, the company recently launched a new varietal series. Variety: Bourbon is the first in the line, a blend of heirloom Bourbon beans from two different farms. Get excited.