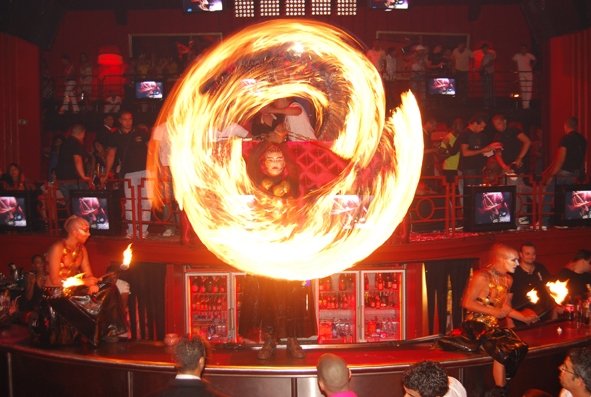 Every bon vivant enjoys great food, wine and, of course, a night on the town. From where to eat in what city to what to wear for every occasion, Food Republic's got you covered when it comes to food culture. That's why we've decided to launch The Spot, a weekly nightlife column where our nightlife insider will traverse sea and land (and velvet ropes) to bring you what's new and noteworthy in the world of nightlife from New York City to Tokyo.
The Location
Theatro
Rue Ibrahim El Mazini 40 000 Hivernage, Marrakesh
+212 664 860 339
theatromarrakech.com
The Scene
Imagine Brazilian carnival meets Ibiza beach party in sultry Marrakesh. The venue is always packed with local and foreigners partying alongside go-go dancers, flame throwers, snake charmers, belly dancers and other exotic acts.
The Music
The clubs hosts international DJs all summer long, and they've been known to mix house and oriental Moroccan music. For more info on the lineup check the website.
The Drinks
Morocco's clubbing drink of choice seems to be the standard vodka-OJ, so there's a lot of that, plus the usual suspects (Don P., Black Label). Try the local Moroccan beer.
The Food
Although Theatro doesn't serve food, there are plenty of vendors outside where you can sample authentic Moroccan street food, with items such as B'sara (bean stew), snails and M'semmen (similar to roti). Also look out for pigeon pie!
The Door
If you decide to go with a big party, it's better to make a reservation. The website gives you the option of booking a table online. Dress sharp, and be prepared to shell out big bucks because the place isn't cheap. Try to pop in during summer — high season — to really get a feel of what the place is like in full throttle. You won't be disappointed!
More Spots from Food Republic: