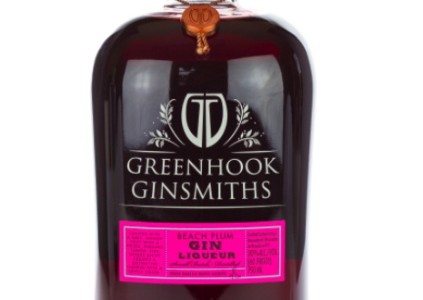 In places like Fire Island and Long Island, the deer have it made. They roam the sand dunes, munching the small, purple fruit from the beach plum shrubs, while city folk gawk and coo. Beach plums aren't just for them, though. You can find jams and jellies and the occasional pie made from the wild fruits around the Northeast.
And now, you can drink a liqueur made from them, too. Greenhook Ginsmiths Distillery in Brooklyn has just launched the first-ever commercially produced Beach Plum Gin Liqueur.
Originally, Greenhook founder Steven DeAngelo had wanted to make sloe gin. The problem is that sloes, a species of plum, don't grow in North America. And importing them from their native England is problematic at best. Luckily, DeAngelo remembered the beach plums of his youth. He's from Brooklyn and recalled the fruits growing wild on the beaches of the Rockaways. So, he decided to make a beach plum liqueur instead.
"Beach plum is a close relative of the sloe, but it's native to New York and they only grow along the Northeast Atlantic coast," says DeAngelo. "They're actually very rare now, but I guess back when [Giovanni de] Verrazano and Henry Hudson were first exploring New York, they were pretty bountiful in the harbor."
The wild plums are noticeably less bountiful now: they grow in low-lying sandy soil, which just happens to be the most valuable real estate for beachfront summer homes. For his liqueur, DeAngelo sources beach plums from two New York farms. The fruit gets macerated in its entirety, then steeped in the distillery's Flagship American Dry Gin, a process that takes six to nine months. The result is similar to sloe gin, but more tart and spiced than many incarnations of the stuff, and less syrupy.
"I wanted to focus a little bit more on the underlying gin," says DeAngelo. "I didn't want to just make it sweet like a lot of fruit liqueurs. I wanted to have a gin liqueur where you could actually taste the gin. It's about the harmony of the fruit with the gin."
Bottles go for about $50 and are available is select shops around New York state, as well as online (see their website for retailers). DeAngelo likes his Beach Plum Gin Liqueur topped with tonic, or with fresh lime and ginger beer. It's also nice in a Champagne cocktail, particularly one sipped with a bit of sand between your toes.
More gin stories on Food Republic: