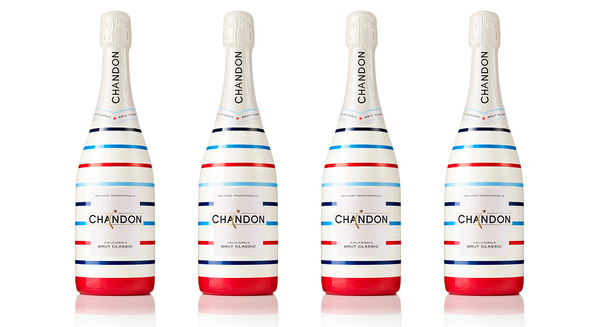 We're bound to see a lot of red, white and blue these next few weeks as the Olympic Games get underway, but just as we'd advise steering clear of green-hued beer on St. Patty's Day, the same goes for gimmicky tri-color cocktails. Thankfully wine producer Chandon has a much better idea in mind for patriotic drinking. And unlike Team USA's uniforms, this wine is made in the USA.
Produced in collaboration with the British branding design firm ButterflyCannon (oh well, nobody's perfect-ly patriotic), Chandon's Brut Classic sparkling wine from California is available this season in a limited-edition "American Summer" bottle, displaying a set of red and blue stripes on an all-white background. Subtle and vivid at once, the cool, crisp design chants U-S-A as much as it might transport you to a regatta weekend out in the Hamptons—even if that's the furthest from reality. Here's a toast to aspiration.
Bottles are $8 for 187 ml and $24 for 750 ml at select retailers and on Chandon's website.