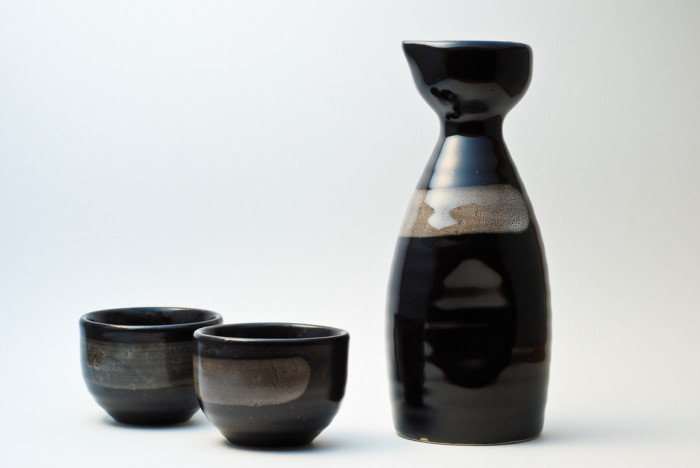 If you're like most people, your introduction to sake probably occurred at some take-out sushi joint, where it was served hot and harsh. Sheer blasphemy to most purists. Heating up good sake can destroy its delicate flavors and aromas. Of course, the kinds of sakes served warm generally are not great. The higher temperature is used to mask astringent or otherwise off flavors.
Good sake, on the other hand, should be served gently chilled. For more sake sipping tips, we tapped chef-owner Josh Smookler of the new Zutto Japanese American Pub in New York's Tribeca neighborhood.
A Korean Jew (from New York, obviously), Smookler has worked at Per Se and Bouley. But he wasn't in the kitchen: he started his restaurant career at the front of the house, working as a wine director. He can now be found at the helm of his own restaurant's kitchen, but that doesn't mean all his booze experience was for naught. He curated the beverage list at Zutto, which features some 60 sakes.
"I've noticed a lot of people are starting to drink sake because it's much lighter. It's not too full or rich," says Smookler. "People used to order either hot sake or cold sake. Now, they are becoming more aware of the quality of sake."
It's one of his goals to help his own customers become even more aware by letting them taste sakes they might not otherwise try on their own. He makes a habit of opening a couple more expensive sakes from his cellar and offering, say, a three-ounce pour of each as part of a tasting. When it comes to pairing sake with food, however, he is less concerned with educating people than letting them enjoy themselves as they please.
"When I go out, I never work on pairings," says Smookler. "I just drink what I like and eat what I like. I think that's the best way to do it. I got away from the sommelier thing for a reason. Food and drink is just a vehicle to gather with friends and family. In the restaurant world, there are just way too many rules about how to enjoy [the pairings]."
So, if you have a hankering for a milky unfiltered nigori sake to drink with your whitefish salad? Just go ahead and do it, Smookler says.
Oh, and try these five sakes he recommends too:
Otokoyama Junmai Ginjo
This light, refreshing sake is summer in a glass. Dry and crisp with just a hint of fruit, it's a great value. ($20)
Kagatobi Junmai Sparkling Nigori
Rich and cloudy, this mildly sweet effervescent sake has notes of melon and baby powder. ($25)
Tonyu No Sake
Translating literally as "soymilk sake," this one may sound like a bad idea, but it's not. It's a junmai blended with organic soy milk and is perfect for sake newbies. ($16)
Wakatake Onikoroshi
A hint of color in the glass. Beautifully round, silky, deep with slight sweetness, elegant and has great acidity. Great depth and intensity of flavor, though simple, has a real presence to it. ($50)
Daishichi Houreki
This sake is worth the splurge. The über-traditional, free-run drip process involves filtering drop by drop. Sweet and lush, yet complex and bold. ($175)
Zutto
77 Hudson Street
New York, NY 10013
212-233-3287
---
More chef conversations on Food Republic: