In Sonoma, Biodynamics In Action At Quivira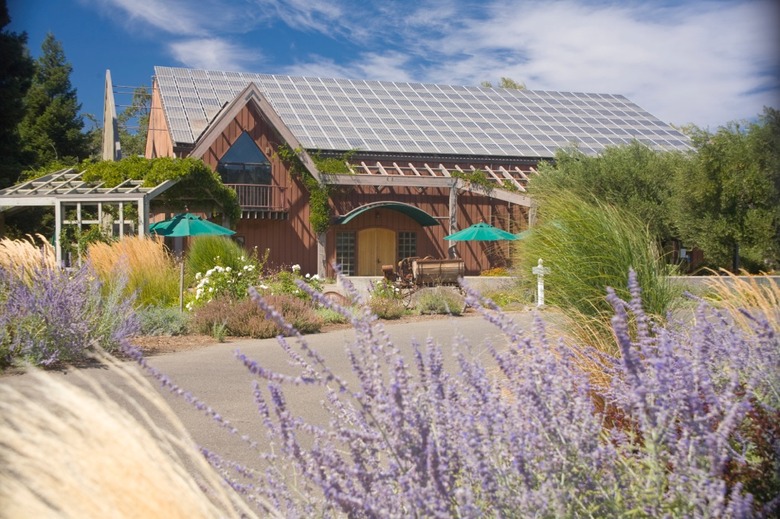 When you visit a winery, you expect to see grapes, vineyards, maybe a winery dog. But, chickens, cows, bees and fruit trees? If it's a biodynamic winery, don't be so surprised. Biodiversity is a key component of biodynamic farming, which makes visiting biodynamic wineries way more fun than plain ol' conventional ones.
In Sonoma, Quivira Vineyard & Winery is powered by solar energy, has its own chicken coop, Jersey cows. They make preserves from their own fruit and honey from its own bees. Winemaker Hugh Chappelle says he discovered biodynamics while traveling in Europe. He watched the movement grow since the 1990s, from a couple of perceived "crackpots" to a verifiable way of farming that produced results recognizably better than conventional farming's.
"It's pretty common sense stuff, but has gotten the reputation for being a bit on the mystical side," says Chappelle of biodynamics. "My grandfather was a cotton farmer and they did a lot of things by the old Farmer's Almanac, which had moon phases like we do in biodynamics, so it wasn't so strange to me."
Quivira's chickens are used for eggs, the shells of which go into several biodynamic "preparations" (mixtures of fermented herbal and mineral materials used for composting). Its Jersey cows provide the manure for composting. Its bees are important – not for grapes, which are self-pollinating – but for pollinating the other crops.
"Any time you're practicing an intensive monoculture, like grape growing, you're putting yourself at risk. You're forcing yourself to rely on the modern arsenal of chemical products in order to survive," says Chappelle. "Biodiversity creates a more balanced ecosystem so your primary crops are less at risk."
The winery is bustling right now as it readies for bottling and makes its preparations for the harvest, so it's actually a great time to visit. 4900 West Dry Creek Road, Healdsburg, Calif., 707-431-8333, quivirawine.com
"You have the scientific folks saying biodynamics is a bunch of witchcraft," says Chappelle. "At the end of the day, it's about the quality of what gets into the bottle. We can't prove scientifically what exactly biodynamics does, but if you look at it over an extended period of time, it's pretty clear that vineyards farmed organically and biodynamically consistently give a superior raw material."
Here are five other wineries employing organic or biodynamic principles nearby:
Preston Vineyards
This family-owned organic winery also follows certain biodynamic practices. Visitors can sample and buy the house bread, olive oil, produce, nuts and eggs. It's open to the public and charges a $10 fee for tastings (refundable upon bottle purchase). 9282 West Dry Creek Road, Headlsburg, 707-433-3372
Unti Vineyards
The winery is not certified as organic or biodynamic, but practices both philosophies. Its bold reds are made with natural yeasts and no fining agents. The tasting room is open by appointment for groups of up to six. 4202 Dry Creek Road, Healdsburg, 707-433-5590
Benziger Family Winery
Probably the biggest and best-known biodynamic winery in the region, Benziger offers tours for up to 10 people at $40 a pop. The tour includes a visit to the vineyards. You can also visit the main bar in the tasting room for $10. 1883 London Ranch Road, Glen Ellen, 800-989-8890, benziger.com
Radio-Coteau
Eric Sussman's winery isn't open to the public for tours, but you can call to make an appointment to visit and buy direct. The biodynamic wines are made with as little intervention as possible, using natural yeasts and little else. P.O. Box 610, Forestville, 707-823-2578, radiocoteau.com
Littorai Wines
This family-owned winery is set in a modern, eco-friendly farmhouse-style structure. Owner-winemaker Ted Lemon went biodynamic back in the 1990s after more than 15 years of conventional farming. Tours for groups of up to six are $30 per person. 788 Gold Ridge Road, Sebastopol, 707-823-9586, littorai.com
---
Read more about wine on Food Republic: