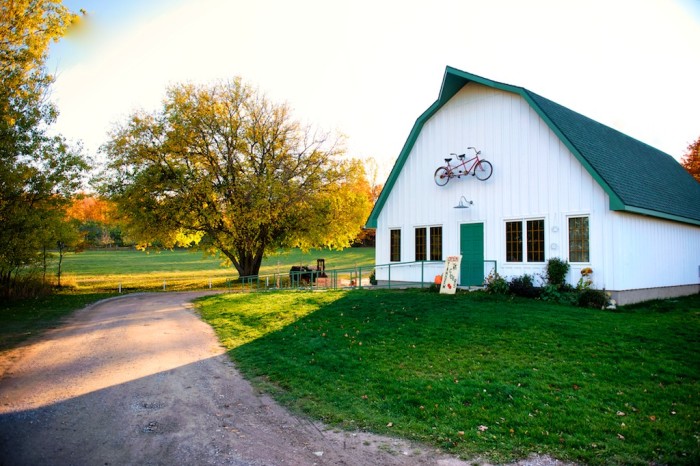 If you happen to be on the west side of Northern Michigan (anywhere near Traverse City), I can think of no better way to spend a half or full day than by exploring the stunningly beautiful Leelanau Peninsula. Follow the West Arm of Grand Traverse Bay up and around to the open waters of Lake Michigan. Along the way, there are many small towns, wineries, art galleries, restaurants, bars and fishmongers to visit. One of these stops is Tandem Ciders, just north of the posh little town of Suttons Bay (where Mario Batali keeps a vacation home).
My wife and I make it a point to visit this picturesque cider house every time we come to the area. The tasting room is a simple barn along a lovely country road that appears to have more in common with the French countryside than it does northern Michigan. The people working are always friendly, laid back and knowledgeable, making Tandem a fun place to hang. (Think about trying one of their pickled eggs. They're only a buck and they taste way better than they sound or look!)
The selection of ciders can vary, but always includes three or four draught-only varieties. These can be purchased by the pint, half-pint or growler. Several other varieties are available in 750ml bottles. The house-style is decidedly dry—from super-dry to off-dry. Most are lightly effervescent, food-friendly and very refreshing. In terms of alcohol, these hard ciders fall in the 5-9% range. That said, at least one variety, the Ponoma, is much stronger and heavier. This heady, delicious brew is blended with apple brandy and aged in oak. It weighs in at a hefty 17% and is meant to be sipped, not sessioned. You can have a taste, but it is NOT available as a pint or half pint. Chances are, unless you're staying in Suttons Bay and have a bicycle, you drove here, so be careful, buddy!
Tandem Ciders
2055 N. Setterbo Road
Suttons Bay, MI 49682
231-271-0050