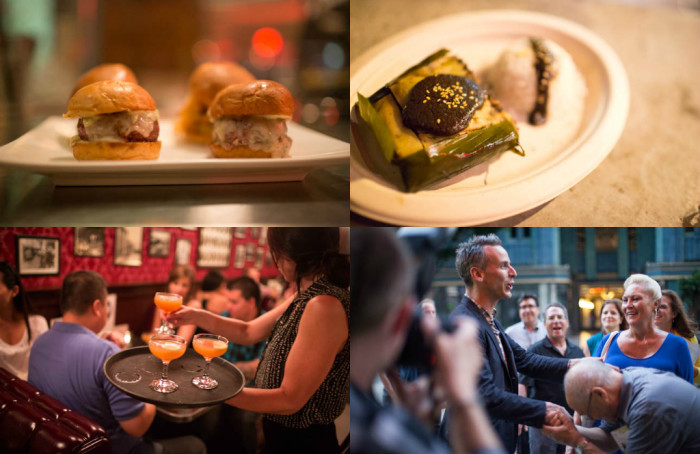 With food culture so popular these days, it seems like every city in the country has their very own food festival. Most of these events follow the same routine: a bunch of local restaurants set up little booths in a tent or a hotel ballroom or abandoned summer camp in the woods wherever else and the chefs get to serve tiny portions of their food without the luxury of using their own kitchens.
It's obviously not a perfect situation. That's why glossy food magazine Bon Appétit (Disclosure, I'm a contributor to bonappetit.com) took a different approach with their brand new Grub Crawl series. Instead of making all the restaurants come to one central location, they're taking the diners to the restaurants in a curated movable feast.
It started with a weekend in New York, then moved on to New Orleans, and this past weekend the final Grub Crawl location was Los Angeles for three days of proof that we're Americans, damn it, and if we want to get drunk and uncomfortably full, we've got the freedom to do so.
Bon Appétit Editor-in-Chief Adam Rapoport was on hand and he's a big supporter of LA, ranking it just behind New York and San Francisco as the best food city in the country. "The food scene has gotten markedly better over the past few years," he said. As a current Angeleno, I have to agree. That's why I decided to take the brand new Expo Line train downtown (public transportation FTW!), get drunk and go crawling.
My group (one of four) started at Las Perlas, a tequileria on 6th St. that GM Raul Yrastorza calls "a cornucopia acid trip of Mexico." The crowd was a fascinating study in demographics. Older couples, young Asian girls and a group of women that looked like they'd be good at softball all seemed to reflect the changing face of Bon Appétit.
We were all in this together, though, so everyone grabbed a kelly green Spiced Daisy from the bar and started drinking. The tequila-cucumber-jalapeño-cilantro combination hit the spot. And then it hit another spot when I went back for seconds. Food was courtesy of Oaxacan powerhouse Guelaguetza, which served tamales in a 23-ingredient black molé and chips with a sweet coloradito salsa. I was very thankful to have such a good foundation for my liquor. Speaking of liquor, I also helped myself to the mezcal-based Juquila. If you're keeping score at home, that's three drinks in 40 minutes and that's when I decide that the slogan for mezcal should be a "A Night You'll Never Remember."
Stop number two was Seven Grand, a whiskey bar that was more blocks away than I wanted it to be. The distance actually provided a good break because when I got there, it was time for make-your-own Old Fashioneds. Score. I hit up drink number four and wish I had more tamales. People seem to be getting into the groove of the crawl a little more. The Asian girls are taking tons of photos with an iPhone wrapped in a Hello Kitty case. Wait. Is that Hello Kitty or Garfield? The more I drink, the more I can't remember stereotypes.
Next up is Umamicatessan, a reverse food court with multiple restaurant concepts that come to you. The food here is the best of the night: a dill-heavy smoked sturgeon on a bagel, country paté, thick cut pastrami, a couple of different burgers from Umami, tres leches doughnut holes that taste like funnel cakes, and a drink called the Bourbon Pig that has bacon-washed Bulleit bourbon. I order two Bourbon Pigs and decide my imaginary neo-soul band should be called The Bourbon Pigs. At this point in the evening, everyone has become best friends. We're sitting at long communal tables and all is right in the world.
We take another long walk to our last stop of the night: Cole's, the progenitor of the French Dip sandwich. Along the way, I discuss public transit in LA with Kim and Marty, a lovely couple from Mt. Washington. The whole walk feels like the first night of freshman year where hordes of kids are looking for a party, any party. When we get to Cole's, there are sandwiches and drinks and now that I'm writing this I realize that I should have taken more notes than just "sludge cups." I think I was referring to a slushy dessert drink that came in a small plastic cup and tasted like apple cider. Or maybe that was the punch. I was drunk. Sorry.
It was a great night. The rest of the weekend took the party to Hollywood and then to the Westside to really showcase the diversity of Los Angeles' incredibly diverse restaurant scene. No matter how drunk I got, I can say with certainty that the Grub Crawl is a great event. BA's Adam Rapoport put it best when he told me why he thinks grub crawls are better than the 40-restaurants-in-a-room concept. "What you don't get to taste is the restaurant itself. If I'm in New York, I like the steak frites at Balthazar, but what I really love is Balthazar itself; The lighting and the ceiling fans and music and the atmosphere and the people and the energy. Let's take the restaurant to the festival instead of the festival to the restaurant."
Yes. Let's.
For more photos visit bonappetit.com
---
More Los Angeles food coverage on Food Republic: