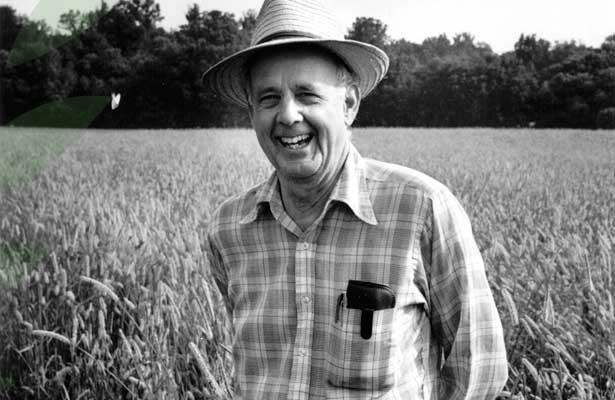 For the second year running, the James Beard Foundation — an organization best known for their annual awards program — is honoring major players in the world of sustainability, food access, and public health. (Read our report from last year's event here.)
"These trailblazers are all working to create a more sustainable future and it is through their monumental achievements that we are able to continue a critical conversation about the future of food," said JBF President Susan Ungaro in a statement released this morning.
The five recipients include:
Wendell Berry, Author, Bringing it to the Table
For the brilliant insight he has brought to America's agrarian movement for more than six decades.
Dr. Jason Clay, Senior Vice President Market Transformation, World Wildlife Fund (WWF)
For his efforts to study and address the global social, environmental, and economic impact of a variety of commodities, and his cross-sector work to improve the sustainability and supply chain management of these commodities.
Dr. Kathleen Merrigan, Deputy Secretary of Agriculture, U.S. Department of Agriculture (USDA)
For her efforts to strengthen the critical connection between farmers and consumers, create new opportunities for farmers and ranchers, support regional food infrastructure and bring agriculture into our daily conversations through efforts such as USDA's Know Your Farmer, Know Your Food initiative.
Tensie Whelan, President, Rainforest Alliance, and Co-Chair, Sustainable Food Lab Advisory Board
For overseeing the transformation of the Rainforest Alliance into a respected international organization that works to transform land-use practices, business practices, and consumer behavior to conserve biodiversity and ensure sustainable livelihoods.
Malik Yakini, Executive Director, The Detroit Black Community Food Security Network (DBCFSN)
For his work to ensure social justice, food equity, and food security to the people of urban Detroit.
The award recipients will be honored at a dinner to conclude JBF's third annual Food Conference on October 17, 2012 in New York City. New Orleans chef, restaurateur and author John Besh will host and emcee the event.
---
More about the James Beard Foundation on Food Republic: