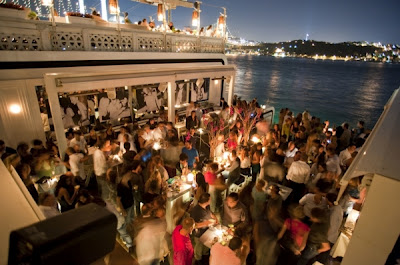 Every bon vivant enjoys great food, wine and, of course, a night on the town. From where to eat in what city to what to wear for every occasion, Food Republic's got you covered when it comes to food culture. That's why we've decided to launch The Spot, a weekly nightlife column where our nightlife insider will traverse sea and land (and velvet ropes) to bring you what's new and noteworthy in the world of nightlife from New York City to Tokyo.
The Location
Angelique
Salhan Sok. No:5 Ortakoy, Istanbul, Turkey
+90 212 327 28 44
angelique.com
The Scene
In Istanbul, the party is literally on the Bosphorus. The hottest clubs in the city hold prime real estate on the banks of the European side of the Bosphorus Strait. The body of water splits the city in half; one side of the city is in Asia while the other lies in Europe. So if you're partying at Angelique you're in Europe but drunkinly gazing at sweeping views of Asia. Is that cool or what? Well, the hottest international and local thirty-somethings in the city seem to think so.
The Music
World-renowned DJs jet to Istanbul to play house and electro sets at Angelique. Certain nights are also reserved for local talent. You can also pick up an album of the the club's anthems on your way out if you dig the tunes.
The Drinks
Angelique's famed drink is the Flaming Ferrari, a mix of white rum, dark rum and Blue Curacao that you suck through a straw while the bartender sets the stuff on fire. Aside from possibly scorching your eyebrows, you will get sloshed — be warned.
The Food
Angelique is a restaurant before 1 AM, serving a full menu of international and Turkish fare. Our advice is to stick to the local cuisine, especially if it's Turkish. You've already heard us wax poetic on the virtues of Turkish cuisine. Be sure to try one of the daily grilled fish specials accompanied by a glass of local Turkish wine.
The Door
If you show up with your boat, you can dock right outside the door (there are two, one from the street, and one on the water); that way you're gauranteed to get in. If not, you'll have to work a little harder and be sure to look sharp. Passing by for dinner? Call ahead and make a reservation.
More Spots from Food Republic: