Lunch In Singapore: Kaya Toast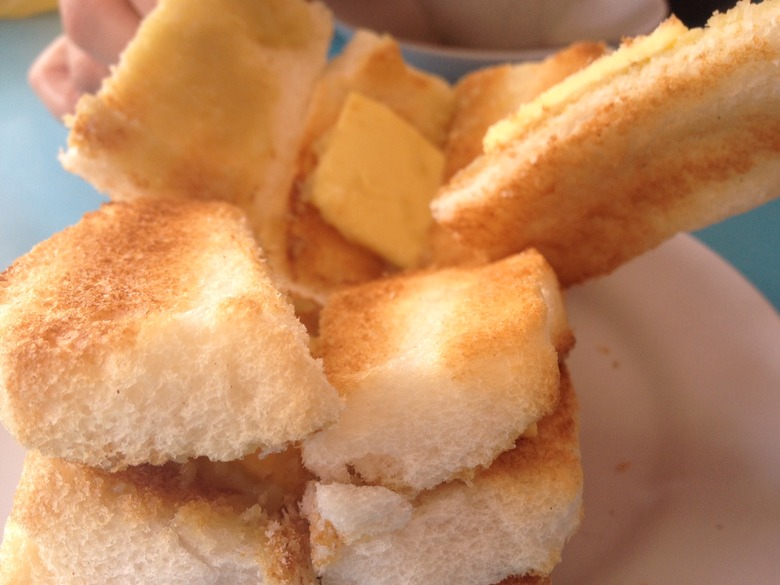 This week, Associate Editor Jess Kapadia is reporting live from Singapore. And, swimming in insane hotel pools.
As clichés would have it, my first dilemma upon exiting Singapore's Changi Airport was what to do with the gum in my mouth. I'd heard under no circumstances was I to "casually dispose of it," and I got into the shuttle before thinking to "properly dispose of it," so I just kept it in my mouth until we got to the hotel. In case you were curious.
Exhausted from 24 straight hours of travel and not particularly hungry yet, my fellow food editors and I were grateful to discover kaya toast at lunchtime when we first ventured out. Kaya toast is a Singapore/Malay specialty everyone who's ever had "airplane tummy" should get friendly with. Our guide Garry took us to his favorite kopitiam or coffee shop, Tong Ah, which incidentally used to be the favorite kopitiam of Makansutra author and street food guru KF Seetoh...before it became super-popular because it was his favorite. Now he gets his sock-strained coffee elsewhere (more on that later), which meant plenty of tables for us.
Kaya toast, which we ordered a heaping platter of, is simple, comforting and easily digestible for those of us with what I like to call internal airplane residue. It's toasted white bread spread with copious amounts of butter and kaya — a blend of egg yolks, sugar, ground coconut and pandam, a grassy-tasting herb — and made into a convenient little sandwich. Eaten for breakfast, lunch or with tea, this is the ubiquitous Singaporean snack. But I made it into lunch because much as I had been looking forward to sucking out shrimp heads right off the bat, I simply wasn't ready.
Judging by the assortment of locals sitting at the brightly colored tables at this definitely-for-locals establishment, I'd say this trip is off to a very authentic start. Now about those shrimp heads.
---
More light Asian lunches on Food Republic: