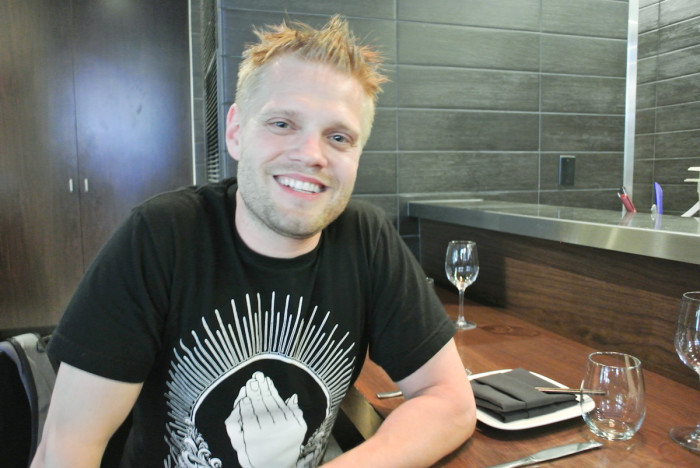 "There's a lot of Vietnamese and Chinese influence here," says Cholon chef-owner Lon Symensma as I prepare to dig into his soup dumplings with a deep onion-Gruyère broth. I'm also blessed with a crab summer roll (ridiculously fresh crab with roasted peppers, charred corn, cilantro, scallion, vermicelli noodles and a sriracha mayonnaise) and wok-fired Brussels sprouts with pork and mint.
I'd been on an epic Denver food crawl and wanted to stop into Cholon to visit with the chef, who I've known for around five years, since his time running the kitchen at Buddakan in New York City.
Since opening in 2010, he's won a legion of fans in Denver — and around the country. Last year he was up for a James Beard Award for Best New Restaurant and this year Food and Wine nominated him for People's Choice Award for Best Chef in the Southwest. Details also just named his one of the Top 10 Best Asian Restaurants in the country. So, people love this place. But, why? I asked Lon to explain.
Describe the cuisine at Cholon…
I was the chef at Buddakan for awhile, so it would have been silly to neglect dim sum. The "small bite" section is definitely heavy on dumplings, with everything in the that section meant to be eaten with your fingers. On the patio and in the bar, we're serving things like satays, chicken wings, dumplings, spring rolls. However, for the most part, I tried to go a little more in the Southeast Asian realm. So, a lot of Vietnamese influence. I really love the French colonization and European influence within the Vietnamese culture.
Have you traveled much throughout the region?
I've lived in Asia, on and off, for about two years. I was in Shanghai for a while, opening up Jean-Georges Shanghai. I did dim sum at the Royal Garden Hotel in Hong Kong. I worked at the Datai Resort off the west coast of Malaysia, on a small island called Langkawi. And then I just spent six months in Vietnam, another five months in Singapore, just traveling. I did some volunteer work in Northern Vietnam for about six weeks, helping a deaf community start a restaurant — where all proceeds went towards buying hearing aids for deaf children. It was an organized government program — some guy started it and found my friend Robert Danhi, who is a Southeast Asian guru chef and wrote a book called Southeast Asian Flavors. He said that there was an opportunity to go help this restaurant.
How has Denver responded to your cooking?
One thing in Denver that I realized is with the verbiage on the menu. You have to have things that stick out. For instance, let's take kung pao chicken. You can make whatever you want, but as long as you have a flavor profile of a kung pao chicken and you write it on the menu, people will be like "oh, cool, I want that." And then you win them over with the presentation and the taste of the dish.
And a little sous vide?
Yeah, I do a lot of sous vide cooking back there.
Does Denver have a traditional dim sum parlor?
About half of the Asian population in Denver is Vietnamese. There's a street about two miles outside the main downtown part of the city called Federal that's predominantly Vietnamese. It's literally restaurant after restaurant. There are two Chinese dim-sum houses, there's two really popular sushi restaurants in town.
Tell me about your summer roll. It's really good, man!
The summer roll is a traditional Vietnamese fresh roll. We make it with a really nice crab salad and it has roasted and pickled dill peppers, some charred corn, cilantro, scallion, vermicelli noodles, and then we make a sriracha mayonnaise which pulls it all together like a wet crab salad.
Have a lot of people had summer rolls when they walk in?
Well because of the Vietnamese population, a lot of people know pho and rolls. They know less about Chinese food than they know about Vietnamese food, which is interesting and very unique. It's amazing because I spent a lot of time in Vietnam and loving the French colonization of Vietnam and the celebration of different cultures coming together.
There's such a large Vietnamese population here so people know a good amount about that. Whereas in New York, they know way more about Chinese food than Vietnamese food. Nobody here knows what har kao or siew mai is, but they can tell you what the flavorings inside of pho and summer rolls are.
Cholon
1555 Blake St.
Denver, CO 80202
303-353-5223
---
Read more about the Denver food scene on Food Republic: