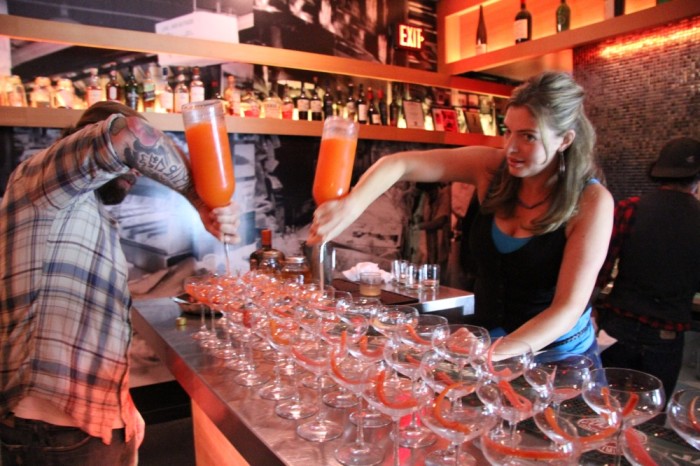 In a few weeks an estimated 20,000 bartenders and cocktail enthusiasts will descend upon New Orleans for the 10th anniversary of what is undisputedly the most important event in the cocktail calendar anywhere in the world — Tales of the Cocktail (July 25-29). This cocktail festival has come a long way since its first year, which had five seminars and a dinner attended by 50 people. To give you an idea of how big the event has become, last year the Tales of the Cocktail kitchen team squeezed over 15,000 limes and over 20,000 lemons – that's a lot of margaritas and cocktails.
Tales in essence is a week of professional talks, fun seminars on the history and techniques of cocktails, competitions and events. Lots of events. After each day of lessons from the spirit and cocktail world's most respected gurus, attendees can participate in parties hosted by the hospitality industry's finest figures — with support from the leading alcohol brands in the world. Combine that clout with the best talent in the world and you'll be privy to some spectacular experiences. Tickets are still available!
I know this firsthand because one of my main duties at Pernod Ricard is to throw the official closing party, which I have done now for the past six years. This year we are expecting about 2,000 people to attend and I am working on assembling some of the bartending world's finest mixers and shakers to put together some tasty drinks. We'll also have musician Aloe Blacc and his band performing. We are naming this party Juniperlooza – festival of gin, music and dance. As the final party of the week we have the responsibility to make sure everyone goes home on a high.
The biggest problem at Tales is picking which seminars and parties to attend. I don't even know were to begin for anyone going for the first time. Nonetheless, here are a few tips that I have learned over the years.
1. Pace yourself. Tales of the Cocktail is a marathon, not a sprint. Many of the biggest and best parties happen towards the end of the week, so save energy for them.
2. Don't try to attend too many seminars. I recommend attending five to six. There is more to Tales than the talks.
3. Make the most of being in New Orleans. Music, food, drink, architecture — New Orleans has so much to offer. I don't need to tell you that.
4. Meet people. There are bartenders attending from far-flung places such as Australia, Singapore, Japan and Brazil (to name a few). Bartender friends are good friends to have when you are visiting a foreign country.
5. Attend the welcome reception. This is a civil affair that kicks off the proceedings. It's the event where everyone sees each other for the first time. Absolut Vodka is hosting this year and I know they have something special in store to set the tone for Tales of the Cocktail's 10th Anniversary.
6. Drink plenty of water and eat well. It's hot and there is a lot of free alcohol – I know you know that, but it does need to be said. We sometimes forget.
Must-attend events (in addition to Juniperlooza):
Employees Only Pop-Up Bar. The New York City bar is doing a pop-up on Thursday, July 26 and I have the feeling that it will be a wild night since there is the Spirited Awards, where we find out who the industry deems to the be the best bartender and bars in the U.S. and the world. The host this year is Zane Lamprey from the HDNet show Drinking Made Easy, which I think is a great choice. July 26th, 10:00 p.m. to 4:00 a.m. at One Eyed Jacks.

Steve Olson's Bar Room Brawl. I always make sure to attend this event and watch America's best bars battle it out. July 27, 10:00 p.m. to 12:30 a.m. at Generations Hall.
​Tales of The Cocktail goes down in New Orleans, July 25-29. For a full list of events, visit here.
---
More Drink Ford Tough columns: