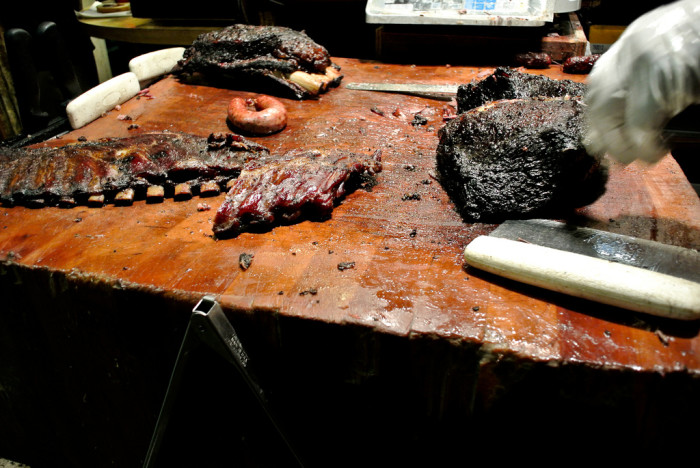 Writing about barbecue in Texas is a risky proposition. Texas barbecue is really a different species from the rest of their neighboring Southern states. And that species is bos taurus, or the beef cow. In the more pork-centric Southeast, beef usually only appears on the barbecue menu as a novel oddity in the form of a brisket dish thrown into the smoker along with the pork shoulders and short ribs. But in Texas, specifically the central section, brisket is king and is the measuring stick that barbecue restaurants are judged by.
In the Lonestar State other cuts of meat are usually available, such as smoked hot link sausages, pork ribs and the unfortunately named "clod" (a whole beef chuck shoulder that is analogous to the Boston Butt portion of a pig). The Beef Council should work to come up with a new name for that one, because when it is cooked properly low and slow for about a half day, clod really is a spectacularly tender and flavorful treat.
Like the rest of the history in Texas, the legacy of barbecue is the result of a blending of several ethnic cultures and traditions. Seventeenth century Spaniards brought grazing animals like goats, oxen, cattle and sheep with them to act as a traveling food supply as they ranged the ranges exploring the vast expanse of colonial Tejas. Later, Mexicans taught their neighbors to the north two important methods of cooking these beasts. Barbacoa involved wrapping seasoned meats in leaves and burying them with hot coals or rocks to steam and tenderize the tough cuts. Al pastor was a little more prosaic and mainly consisted of digging a ditch and filling it with mesquite coals to cook their cabrito.
Cowboys could use either of these methods to prepare and preserve an unlucky cow or goat culled from the herd during cattle drives. At the turn of the 19th century, Southern claimstakers moved west into Texas and brought some of their pigs and porcine traditions with them; some still show up on the chalkboards of Texas market-style barbecue joints today.
That "market style" is the result of immigration as well. In the 1830's, Central Texas saw an influx of Bohemians (not the Edie Brickell kind) from Germany and Czechoslovakia. Some of these old world Bohemians were butchers and brought with them traditions of making sausage and smoking meat to preserve it. They sold their meats by the pound wrapped in butcher paper, a method that is still used in many market style restaurants today. Only recently did some of these places even begin to offer plates and silverware, as diners were expected to tell the butcher when to stop slicing the brisket and then eat their bounty on top of saltines or slices of white bread.
After awhile, digging pits and ditches in the hard Texas earth sort of fell out of style, although the term "pit barbecue" is still ubiquitous. Texans began to construct above-ground pits out of brick and covered them with sheet metal to hold in and regulate the heat of the fire, which was usually built at one end of the pit, while the meat was placed on the other end to cook indirectly.
The primary heat sources for Texas barbecue are logs of post oak, white oak, mesquite and in some areas, pecan. Each wood offers unique contributions to the flavor profile, which is critical since Texas barbecue doesn't depend on heavy slatherings of sauce to flavor the meat. Instead, simple rubs are applied to the brisket, which is a notoriously difficult cut to cook well. Some restaurants add nothing more than salt and black pepper to their brisket and may, or may not, offer a Worcestershire-based barbecue sauce on the side to enhance the flavor.
Texas purists believe that it's not the job of the sauce to moisten up the meat. It's the duty of the pitmaster to trim exactly the right amount of fat off the brisket to ensure that slices are not overly dry, but also don't fall completely apart on the fork. Great brisket should have a little tooth to it, as well as a pronounced purple smoke ring and hopefully a bit of a spicy crust. Crispy Kansas City-style "burnt ends" are not considered a delicacy in Texas. They're more of a sign that whoever smoked your brisket probably had a few two many Shiner Bocks and forgot to take it off the fire in time.
To sample authentic Central Texas barbecue, particularly brisket and hot links, here's a pro tip. Search for Southwest Airlines deals to Austin and rent a car with unlimited mileage for a pilgrimage around the capital city. In addition to Austin (where Franklin Barbecue is a popular destination), the most revered destinations for prototypical market barbecue lead travelers to the small towns of Lockhart, Elgin, Luling and Taylor. In each town, consider trying the most popular restaurant that the foodie chat boards go on and on about, but also hunt out a more obscure option for comparison.
In Lockhart, the two prototypical restaurants are Kreuz Market and Smitty's Market. Born out of a family feud among members of the same family, both markets have plenty to offer in the way of great barbecue and have earned their laurels. Kreuz is in a young building by Texas barbecue standards, but it is still sufficiently dilapidated to please over 500 diners at a time on busy Saturdays. For a slightly less known option, try out Chisholm Trail Bar B Q, where locals proclaim that the meat is almost as good as the two big boys and that the side dishes are even better. Always crowded Black's is also a safe bet in Lockhart — and make sure to save room for the pie.
Elgin is the sausage capital of Texas, and Meyer's Elgin Smokehouse is the biggest swinging sausage in town. Just a few miles out of Elgin is the small town of Manor. (When you're a suburb of Elgin, you know you're talking tiny.) Manor is the home of Cele Store, located in a building that looks like part of an old time Western movie set. Actually, it looks like a strong Texas wind could blow the whole place over like the Big Bad Wolf. Luckily, it's not about being flashy. It's about the sausage, and Cele's makes some of the best.
City Market in Luling is revered and spoken about in hushed, quasi-religious tones by barbecue aficionados. Known for smoking some of the best meat in all of Texas, City Market frequently appears on magazine "Best Of" lists and adventure eater bucket lists. As an alternative, try out Luling Bar-B-Q. Although it is not as acclaimed as City Market, consider sampling their brisket if for no other reason to demonstrate how transcendent the version across the street is.
Finally in Taylor, TX, folks swear by Louie Mueller's Barbecue, where you can order your brisket hand cut either moist or lean. Whichever way you choose, the brisket at Mueller's is not apt to disappoint. If the line is too long at Mueller's, head over to the Taylor Café, where they serve some pretty mean ribs of their own. As with just about any of these places, hours at Taylor Café can be irregular, and it's a cash-only business. Always call ahead before you leave to see if your favorite market is open — and if they're out of brisket, you're out of luck. That's why you need all these options.
You can read more of Chris Chamberlain's Year Of Barbecue dispatches here.
Smitty's Market
208 S Commerce St
Lockhart, TX 78644
512-398-9344
Kreuz Market
619 N Colorado St
Lockhart, TX 78644
512-398-2361
Chisholm Trail Bar B Q
1323 S Colorado St
Lockhart, TX 78644
512-398-6027
Black's Barbecue
215 North Main St
Lockhart, TX 78644
512-398-2712
Meyer's Elgin Smokehouse
188 Hwy 290
Elgin, TX 78621
512-281-3331
Cele Store
18726 Cameron Rd
Manor, TX 78653
512-251-3562
City Market
633 E Davis St
Luling, TX 78648
830-875-9019
Luling Bar-B-Q
709 E Davis St
Luling, TX 78648
830-875-3848
Louie Mueller Barbecue
206 W 2nd St
Taylor, TX 76574
512-352-6206
The Taylor Cafe
101 N Main St
Taylor, TX 76574
512-352-8475