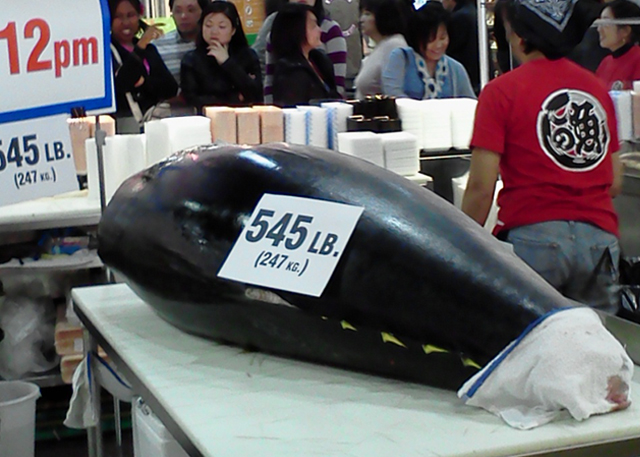 A trip to an American supermarket is rarely revelatory. So you need OJ and a couple of rolls of paper towels. So what? At your neighborhood spot, you know where everything is. You know what everything is. You are maybe on a first-name basis (or at least a nod-of-recognition basis) with the dude stocking personal-size DiGiornos in frozen foods.
Grocery stores overseas, on the other hand, are kind of exciting. Who knows what exotic candy bars will line foreign shelves? What unexpected pork products might be at the butcher? And is that really milk in those unrefrigerated jars?
Then comes the graduate school of grocery shopping abroad: the international food market. Forget farm stands of neatly stacked heirloom tomatoes. From the unmitigated mayhem of Singaporean hawker stalls to an early morning cattle call in the Middle East, the world's wildest food markets give travelers an unparalleled taste of local culture. Read on for our take on the top eight.
1. Beijing, China: Donghuamen Night Market
Located at the northern entrance to Wangfujing Street, this legendary market is the sort of place that gets Andrew Zimmern's production company a raise. Local delicacies like seahorses, fermented tofu and steaming bowls of congee are joined by stacks of fried scorpions, crunchy cicadas and all manner of offal. Non-Mandarin-speakers may pay slightly inflated prices but, at approximately $1 a kebab, there should be plenty of skewered silkworms to go around. Northern end of WangFujing St., Beijing, China
2. Narbonne, France: Halles de Narbonne
A Medieval trading post and one-time rail hub, Narbonne is home to a boisterous culinary market with vaulted ceilings and 72 fish, meat and produce stalls. At the heart is Chez Bebelle, a popular café run by ex-rugby star Gilles Belzons. Vendors from surrounding stalls literally throw Belzons the ingredients he depletes during service, assuring diners that their 8€ plat du jour features the freshest horsemeat or seafood this side of Canal du Midi. 11100 Narbonne St., Narbonne, France
3. Nizwa, Oman: Nizwa Souq and Cattle Market
At the early-morning market in this historic Omani town, cows and goats are paraded around a circular track in something of a live carousel of proteins. The best cattle are nabbed early (isn't that always the way?), so market-goers head over to the adjoining souqs around 10 a.m., where vendors specialize in pigeon, seafood, pottery or silver. Near the Nizwa Fort, Nizwa, Oman
4. Edgewater, New Jersey (Yes, Edgewater, New Jersey): Mitsuwa Marketplace
This 30,000-square-foot Japanese culinary emporium stages an arresting annual Bluefin tuna cutting performance in November. A 500-pound fish is artfully carved before adoring fans, whose gasps, applause and relentless smartphone videography lend the proceedings a rock concert vibe. Freshly cut, sashimi-sized portions are then shrink-wrapped and sold by the pound to the outstretched hands of an increasingly impassioned crowd, at this point also waving lighters and screaming "Free Bird!" (Okay, that last part isn't true.) 595 River Rd., Edgewater, New Jersey, 201.941.9113, www.mitsuwa.com
5. Cork, Ireland: English Market
This 18th Century covered market pre-dates the Boqueria by some 80 years, and sells local specialties like Irish farmhouse cheeses, wild river salmon and sheep's tripe in milk – the latter a don't-knock-it-'til-you've-tried-it favorite on par with haggis or careta. Less adventurous eaters might try O'Flynn's Gourmet Sausage, where friendly stall monitors grill sandwiches to order using links like the Cork Boi, a blend of local pork, thyme and Murphy's Stout. Access via Princess St., Grand Parade and Oliver Plunkett St., Cork, Ireland, corkenglishmarket.ie
6. Singapore: Tiong Bahru Market and Hawker Centre
On the second floor of an otherwise unremarkable mid-century building in Singapore's Tiong Bahru suburb, over 80 stalls sell local and regional hawker fare to the sort of crowds that might be politely described as enthusiastic. Navigate your way to Stall 02-38, where the aptly if unimaginatively named Roasted Pig Specialist serves unstoppable char siu for about $3 per order. 83 Seng Poh Rd., Singapore
7. Berlin, Germany: KaDeWe
The food hall at KaDeWe, the largest department store in continental Europe, makes Saks Fifth Avenue in December seem quaint. The 34,000 gourmet items range from local cheeses to flaky Austrian pastries to hand-made wursts from all regions of Germany. Order a glass of the deliciously dry Rieslings so rarely imported to the U.S. at one of the 30+ dining outlets, or escape to [relative] tranquility of the adjoining seventh floor "winter garden." Kaufhaus des Westens
Tauentzienstraße 21-24, Berlin, Germany, +49 30 2121 0, kadewe.de
8. Otavalo, Ecuador: Otavalo Market
Otavalo hosts moderately sized daily markets, but the epic Saturday bazaar occupies the entire town, attracts buyers and merchants from all across Ecuador, and is, basically, bananas. Otavaleños sell gorgeous artisanal textiles; wool and alpaca sweaters; the llamas from which yield those sweaters; live chickens; and incredible local produce (including the aforementioned bananas). The spirit of bartering is alive and well in Otavalo, so practice your best headshake-of-disbelief before arrival. Ave. Amazonas N23-23, Otavalo, Ecuador
More international flavor from Food Republic: