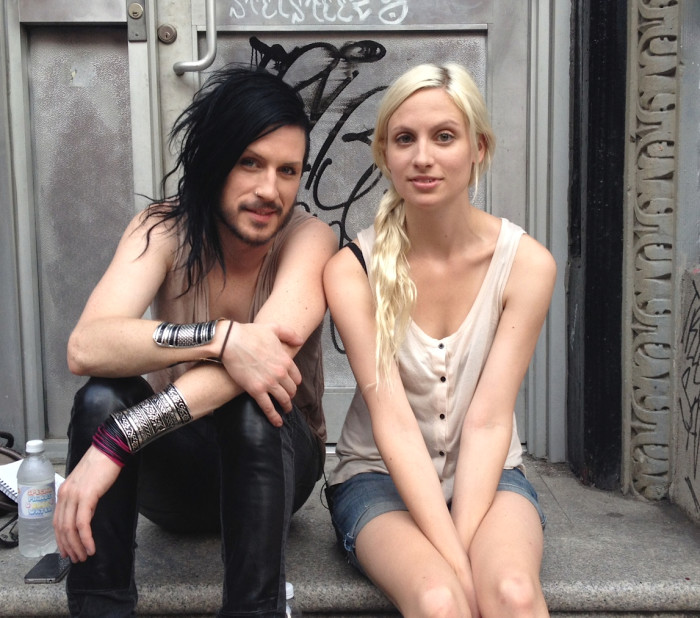 Swedish folktronica band The Deer Tracks recently wrapped up a U.S. tour that ended in New York, in support of their just-released album The Archer Trilogy: Pt. 2. I met up with the duo — David Lehnberg and Elin Lindfors — at Lower East Side mini-hall Piano's before their show, during which Elin skillfully utilized two of my favorite instruments: the melodica and the giant saw. I'd also like to thank air conditioning and the bartender's slightly skewed idea of a gimlet (gin, rocks, lime wedge) for making that show possible, because these guys were dancing hard all over the stage in the middle of a heat wave.
We occupied a stoop, having been kicked out of two bars because David forgot his ID, and talked about what it's like to be Swedish and shun the meatball.
Have either of you guys worked in the bar or restaurant industry?
David: The drummer and I had a bar together in Sweden. It was small and we would play our favorite music and just hang out every Saturday, since we had it only on Saturdays. It was really good.
What was it called?
David: It would translate to "Jaegermeister Bar." It had a Jaegermeister theme.
Where that you've toured have you found the absolute best food?
David: I think the falafel in Toronto was awesome. At Ali Baba's. He made the whole thing right from scratch.
Do you guys have a tour rider? Any highlights?
David: Red wine and some crackers with goat cheese, some grapes and fruit — when I get that, I get super happy.
Elin: You're always on the road, and it's hard when you're just stopping at gas stations where you can't get any of that. We're all vegetarians.
Is that challenging?
Elin: It gets difficult at gas stations because there's not much variety of things that you can buy.
I guess my next question is kind of irrelevant. It was, "How do you feel about meatballs?" but you don't eat them!
David: Well, you can do them vegetarian-style!
Have you been vegetarians for long?
David: For about 17 years and [Elin] 10 years. I liked meatballs as a child though.
What kinds of supplies do you keep in the studio to keep you going?
Elin: Pistachio nuts and bananas ­— we eat a lot of bananas. They taste great and they can really get you going if you're hungry.
David: We also drink a lot of strong coffee and here you can't get that kind of coffee, unless you get like a double-double espresso.
I've noticed that Europeans keep criticizing our apparently shitty coffee. You guys are really low maintenance, though! Do you cook?
David: Yes, absolutely.
Who's the best cook in the band
David: I would say me.
Elin: I would say me.
David: Haven't I cooked for you?
Elin: No, never!
What's the best thing you make?
David: I have a dish that is my pride. It's Thai vegetarian chicken with noodles, coconut milk and a lot of chilis. I don't have a name for it. My girlfriend and I call it the "love dish."
Have you guys ever heard one of your songs playing at a restaurant?
David: Yeah. I was ordering a veggie burger at a fast-food place and just as I was ordering, one of our songs played. At a place right outside of our hometown. It was awesome.
What's your favorite restaurant in the whole U.S?
[both]: Whole Foods!
Elin: We eat a lot of Whole Foods because you can get a lot of great vegetarian food — good grilled tofu, and you can mix it all up at the salad bar. The first time we got here, we went there and bought food for like 3 days and just kept eating and eating. It was crazy! It was the best food of the tour.
Watch The Deer Tracks video for "Meant To Be":
More Good Food, Rocks on Food Republic: