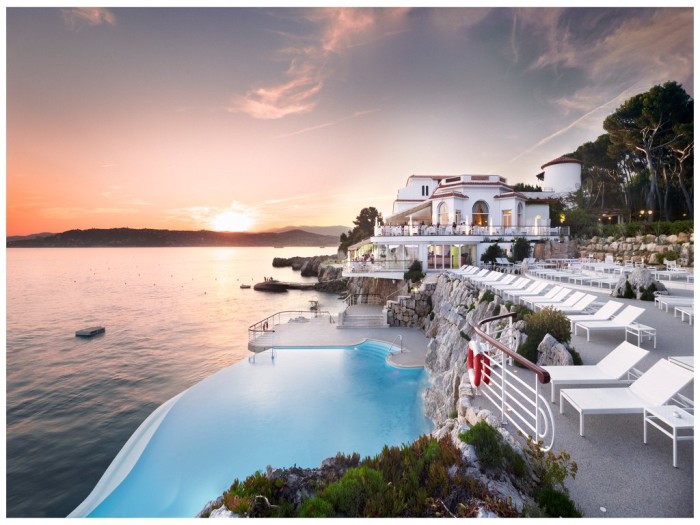 Every bon vivant enjoys great food, wine and, of course, a night on the town. From where to eat in what city to what to wear for every occasion, Food Republic's got you covered when it comes to food culture. That's why we've decided to launch The Spot, a weekly nightlife column where our nightlife insider will traverse sea and land (and velvet ropes) to bring you what's new and noteworthy in the world of nightlife from New York City to Tokyo.
The Location
Hotel du Cap Eden Roc
Boulevard JF Kennedy BP 29, 06601, Antibes, France hotel-du-cap-eden-roc.com
The Scene
After channeling your inner Gainsbourg in Paris last week, you must be in dire need of relaxation, and possibly a detox. Come on now, who are you kidding? Regardless, do yourself a favor and board a quick flight from Charles de Gaulle to Nice and head over to the breathtaking coastal town of Antibes (between Cannes and Nice), where you will find one of the most iconic hotels in the world, Hotel du Cap Eden Roc. Since its inception in 1870, the hotel has hosted the crème de la crème of society, from A-list celebrities to international royalty.
The Music
The music on the property is just what you would expect it to be: mellow, classic and mellifluous — unless it's time for the Cannes Film Festival, or select summer weekends, when the hotel transforms to party central for the jet-set. Take your pick from either of the hotel's two bars, La Rotonde Piano Bar or Le Bellini. You'll find us at Le Bellini, the more casual of the two.
The Drinks
When you get tired of all the Champagne, switch to mojitos. Yes, you may be miles away from Havana, but the French are experts at putting their own twist on anything and everything. At Le Bellini, Christophe Lencioni, the world-renowned mixologist, is never a man to disappoint.
The Food
Dining at the Eden Roc restaurant is a gastronomic experience you will never forget. Chef Arnaud Poëtte's cuisine is amongst the finest in the world. For a more low-key meal head to the poolside Grill & Lounge Bar for dinner at sunset overlooking the French Lérins Islands.
The Door
Hotel owner Maja Oetker requests that guests leave their helicopters at home, according to the Wall Street Journal. "Coming in a helicopter, bothering everyone with the noise. . . It's unnecessary exaggeration," she insists. Got that? Leave the heli at home.
---
More Spots from Food Republic: