WTF Alert: The Alpaca-Spiked Mo-Chica Burger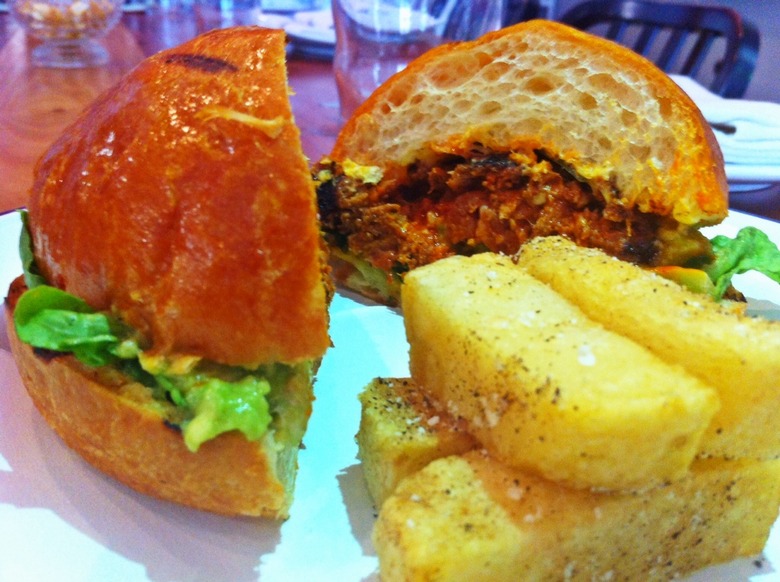 When most people think of alpacas, they think of sweaters made from their ultra-soft wool. When Ricardo Zarate thinks of alpacas, he thinks about how they'd look on a plate. As LA's best Peruvian chef (and Food & Wine's 2011 People's Choice Best New Chef), Zarate has the tough task of introducing finicky Angelenos to the finer points of Peruvian food and that means serving alpaca to those who wouldn't normally order alpaca. He's smart though, because he's offering it in two approachable delivery systems: a stew and a burger. At the new Downtown LA location of his stand-out restaurant Mo-chica, you'll find the "hamburgesa" at the very end of the menu but that's only because Zarate is saving the best for last.
The burger itself isn't all alpaca. It's half 'paca, half lamb. If you didn't know it, you'd say you were just eating a lamb burger or, if your palate were really refined, some sort of ground gyros. Essentially, you're getting a patty that tastes vaguely Mediterranean because of the mild gaminess of the lamb and a little spicy from the Peruvian flavors that Zarate adds on. The meat's all sourced from local farms and then marinated in a spice blend of garlic, cumin, pepper, paprika and a Peruvian red chili pepper called aji panca. For 12 bucks, it's a great burger, and you're getting more than just a patty.
The brioche bun is really light and springy, so it's more of a light jacket for the burger instead of a heavy winter coat (outerwear analogies are really hot this season). Inside, you'll find the requisite lettuce and tomato, but there's also a guacamole-esque avocado relish and some aji-amarillo yogurt that works as a tangy, spicy ketchup replacement. The whole thing gets served with four lincoln log-stacked fries. This is not a joke. You get four, but at least they're pretty big.
You're not going to find another burger like this in LA. If you're into exotic meats, you're going to want to hit up Mo-chica, because this is one alterna-burger that makes it worth it to go downtown.
---
More Burgers of the Week at Food Republic: