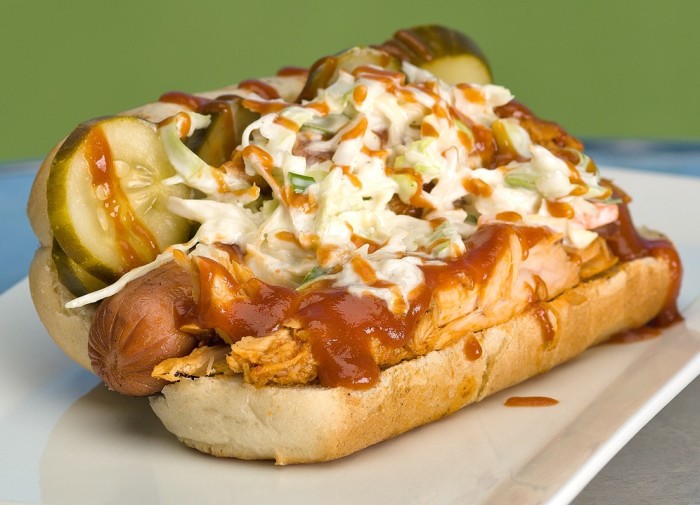 When we first heard that Major League Baseball's annual All-Star Game was going down at Kansas City's Kauffman Stadium July 10th, we were pretty stoked. Kansas City is a well-known destination for barbecue, and we were confident they would make the most of the weekend with some mean stadium eats.
Kauffman's Executive Chef Erin Wishon plans to smoke more than 5,000 pounds of meat for the game — 2,400 pounds of brisket, 1,800 pounds of pulled pork and over 600 racks of ribs. And for all that meat you need barbecue sauce, which is why they're making 650 gallons over the weekend. Here's a sneak peek at what else is in store for the fans trekking to Missouri.
The Kansas City Rib Eye Stack Sandwich
The classic ribeye steak sammy gets an upgrade when topped with cheddar cheese, bacon, sautéed mushrooms, onion rings (!), barbecue sauce, lettuce, tomato and a pickle. An onion ring on top of a steak, why didn't we think of that?
The All-Star BBQ Dog
Hot dogs are pretty much the eponymous baseball dish. But since this is Kansas City, the tubesteak is topped out with pulled pork, coleslaw, pickle slices and barbecue slices. Vegetarians need not order.
Royal Bacon Blue Dog
Blue cheese may be an acquired taste to some, but we have a feeling this dish might win over the skeptics. An all-beef hot dog is topped with blue cheese sauce, chopped bacon and red onions. You certainly don't have to be decked out in blue Royals gear to appreciate a hot dog with bacon.
Cheesy Corn Brisket-acho
We're on record as being extremely pro-nacho, especially when it comes to our sporting events. These tortilla chips are topped with smoked brisket, baked beans, cheesy corn, coleslaw and barbecue sauce. Yes, brisket nachos. Good lord.
Kansas City Cantina Taco Truck
This truck behind right-center field is serving a number of tacos, seafood quesadilla, and some cinnamon coated churros. So yeah, save room for dessert!
---
More Sports And Food Crossovers From Food Republic: