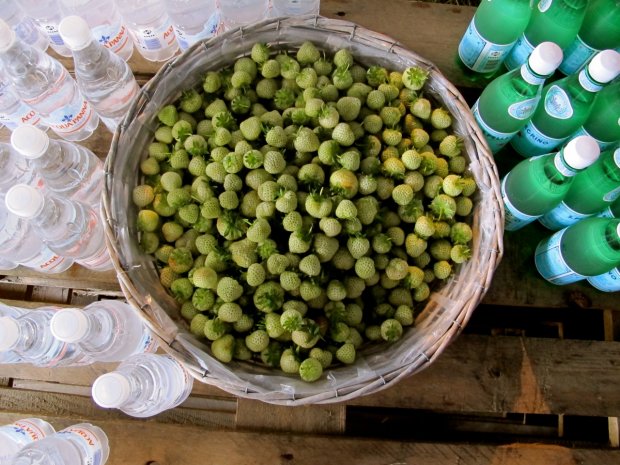 Jody Eddy reports from MAD Symposium in Copenhagen, Denmark, a two-day symposium assembled by chef René Redzepi of the famed restaurant Noma. ("Mad" means food in Danish.)
Related: 13 Photos From The MAD Symposium 2012 | Day 1: MAD Symposium
Day two at the MAD Symposium commenced with a call to stand for the Spanish national anthem in honor of Spain's European Cup victory the night before. It seemed an appropriate beginning for a day that would conclude with a presentation by one of Spain's most illustrious personalities. But before he stepped on stage, presenters from around the world including Fergus Henderson, Wylie Dufresne, Rasmus Kofoed and Andrea Petrini would inspire laughter, share wisdom and even illicit a few tears.
Psychologist Paul Rozin's analysis of what makes a meal memorable broke the conference's theme, Appetite, down into the components that create a lasting impression on the guest. He explained that the three most important factors we remember during a dining experience include the first bite we taste, elements that fit together and things that repeat from beginning to end. He challenged the notion that a meal must end in dessert. (When he asked the audience what their favorite component of a meal was and the overwhelming majority voted for the appetizer, he said that this illustrated why the small portions comprising a tasting menu so often leave the most lasting impression.)
Mission Chinese Food's Danny Bowien and Anthony Myint shared the story of how their restaurant evolved into the sensation that it is today. The audience laughed when Myint explained his solution to a life crisis: "I didn't know what I wanted to do with my cooking career. As I often do in moments of uncertainty, I ate a taco." This single taco triggered Myint's appetite for not only wanting to open a restaurant but to "find a way to feed people's appetites for new experiences while at the same time helping chefs foster their desire for community." The extraordinary success of Mission Chinese Food, which donates a generous portion of its earnings to charity, was a compelling example of how a restaurant can make a lasting and tangible difference in its community.
Daniel Boulud introduced the chef Rasmus Kofoed of the Michelin starred Geranium in Copenhagen, who told the story of his obsessive journey to win gold at the Bocuse d'Or competition. As the audience snacked on smoked lamb, which Kofeod referred to as "Viking chewing gum," he described the fervent nine years it took him to achieve his goal and the freedom he experienced when his victory released him at last from his "Bocuse d'Or prison."
Mark Emil Hermansen and Lars Williams of Noma's Nordic Food Lab demonstrated how cultural perceptions delineate what is and isn't delicious, defining what we believe to be edible and inedible. To illustrate their point, they handed out a paper bag filled with fermented grasshopper garum, live ants, and bee larvae. As the audience reluctantly put the insects into their mouths, many with extreme trepidation on their faces, Hermansen and Williams explained that it is often prejudice that leads us to believe that something has an unsavory taste. Williams said that, "Breaking down this barrier will enable us to interact with our landscape in a more effective way." Hermansen added, "If you can get people to try something they may find offensive once, they will do it again and again until it eventually just becomes another form of sustenance."
Lunch on the second day did not include any insects, but was instead a vegetarian feast of pickled peaches and broccoli, cucumbers with mint and crème fraiche, green strawberries, and rye bread hosted by the restaurant Manfred's, a second establishment by the chefs of Michelin-starred Ralae. The highlight of the meal was the fruity ice cream bars handed out to the swarming crowd from an ice cream cart on wheels. It was surprising to see the enthusiasm for such a humble snack until the mob parted to reveal that Rene Redzepi was the one handing them out.
Wylie Dufresne followed journalist's Andrea Petrini's frenzied presentation on appetite with a discussion about how a thirst for knowledge defines the appetites of the chefs at wd-50. He said, "Our search for the answer to why brings us out of the kitchen to events like this." St. John's Fergus Henderson and Trevor Gulliver quaintly drank glasses of Burgundy on the hay bails they sat on as they explained how a paired down aesthetic and desire for truth and integrity in food defines the appetites they hope to inspire in their guests. Henderson said, "Things like marble and brass are culinary crutches. It's about gnawing on the bone, not any of these other details." Gulliver added that each and every day renews their appetite for their work and that Henderson perpetually reminds him to focus on the important things in life. He said, "Fergus will say to me, 'Are we having lunch?' and I'll respond, 'No, I have to go to the bank.' To which he'll reply, 'The first gull's eggs have arrived.' And we promptly sit down for our lunch."
Rene Redzepi introduced Ferran Adrià, the symposium's final speaker, who received a standing ovation when he walked on stage with his translator, the writer Lisa Abend. His discussion on creativity charted the endless responsibilities of the chef in today's contemporary world and the sometimes punishing sacrifices creativity demands. He said, "Creativity is hard. If you decide to do it, it's not a game. Creativity has no compassion for you if you dedicate yourself to it at the highest level." He said that when he is asked why chefs who have cooked at elBulli, many of them now famous in their own right such as Redzepi, cook he has no answer but that what he does know is that "the spirit of elBulli lives in each one of them. It is a spirit defined by ethics, honesty, passion, generosity, freedom and risk."
It was a fitting note to end on and brought the audience to their feet. But perhaps no story that day was more inspiring than the one told by the shy, melodic voice of Zimbabwean mushroom cultivator Chido Govera. As the first speaker of day two, she set the bar high for the other presenters as she narrated her heartbreaking account of survival when she was orphaned at the age of seven. She said that when she was told the theme of the conference she struggled with it because "I have only known hunger. How can I talk about appetite?" She quietly told the story of how she learned to cultivate mushrooms. At first she did it as a way to feed herself and her brother. But she soon realized that she could make a profound difference in the lives of other orphans by teaching them this simple skill that is often the difference between life and death in their tenuous lives. Her foundation now teaches impoverished children around the world how to cultivate mushrooms, helping them break free from their precarious pasts to construct a brighter future.
When Govera first stepped on stage, her voice wavered as she began to tell her story. She apologized and said, "I'm sorry. I thought I was over this," referring to the death of her mother when she was just seven years old. At first the darkened circus tent was filled with a heavy, awkward silence until someone in the audience called out, "We love you, Chido," and wild applause for her brought the audience to a standing ovation of support. No other speaker at the symposium received a more enthusiastic round of applause and the emotion in the tent was overwhelming. Eventually, Govera found her voice and told her extraordinary story of heartbreak and hope. At the second annual MAD Symposium, there was no better illustration of how the collective work and support of each other has the ability to change the world.
More about The MAD Symposium on Food Republic: