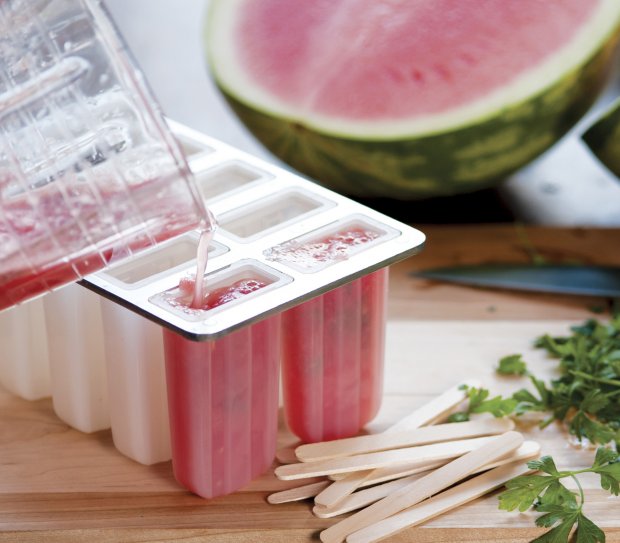 Are you still sipping your summer cocktail out of a glass like a sucker? Haven't you heard: the most refreshing – and portable – cocktail comes on a stick. Like corn dogs and kebabs, putting your drink on a stick makes it so much more fun to consume. But freezing booze can be tricky.
We tapped ice pop expert Nathalie Jordi, one of three partners behind artisanal pop shop People's Pops. The team has just published its first recipe book, People's Pops: 55 Recipes for Ice Pops, Shave Ice, and Boozy Pops from Brooklyn's Coolest Pop Shop.
Step 1: Mix and match your spirit and mixer wisely.
At People's Pops, fruits (and vegetables) are categorized as warm or cool, and matched with another ingredient accordingly. For example, apples, pears and peaches are warm and go with spirits like bourbon or cognac. Cucumber, melon and tomatoes are cool and go with vodka or gin. Something like Campari is pretty versatile – in the book, it gets paired with "warm" star anise and cranberry, as well as with "cool" cantaloupe. Tequila could probably go either way, too.
"We don't make boozy pops for our shops because we don't have a liquor license," says Jordi. "But we did peach-bourbon pops for a special event recently and those are good."
She also recommends steering clear of carbonated alcohol, despite her dream of a strawberry-and-champagne pop. Unfortunately, she hasn't had much luck working with freezing anything sparkling, from soda to beer. The result tends toward the sour. But there's so much more out there that works beautifully. And don't limit yourself to fruits: you can make pops with pumpkin, celery, even corn.
Step 2: Don't overdo it with the booze.
A good rule of thumb is to make your ice pop mixture 15-20% alcohol, or 1 part booze to no more than 4 parts mixer. This measurement is for the hard stuff, so if you're using wine, you can use more.
"The thing to keep in mind is that booze inhibits the freezing process," says Jordi. "So, you don't want to overdo it with the booze, otherwise your pops never freeze."
While bubbly doesn't freeze particularly well, People's Pops does include a recipe for peach and prosecco shaved ice. Shaved ices are also a good alternative to ice pops if you want to up the alcohol content.
"The shaved ice is like little snowflakes and you add a boozy syrup to that," says Jordi.
"Because [the liquid itself doesn't have to freeze], you can add alcohol more liberally. It will melt faster, but you use a spoon so if it's more liquidy it doesn't matter."
Step 3: Enjoy!
The key to cocktailing with ice pops is patience. You'll have to freeze them for several hours before enjoying them, of course, so if you're serving them to guests, make them the day before. But the wait is well worth it for the instant air-conditioning the pop provides. Plus, the little kick. Not a big kick – it takes a heckuva lot of ice pops to get much of a buzz going. Anyone looking to get sloshed will probably suffer brain freeze first.
"In general, pops with alcohol will have a softer texture," says Jordi. "They'll definitely melt more quickly, but I'm talking about something that's not so tangible. More of a mouthfeel that's tender and velvety. It's really nice."
---
More iced treats on Food Republic: