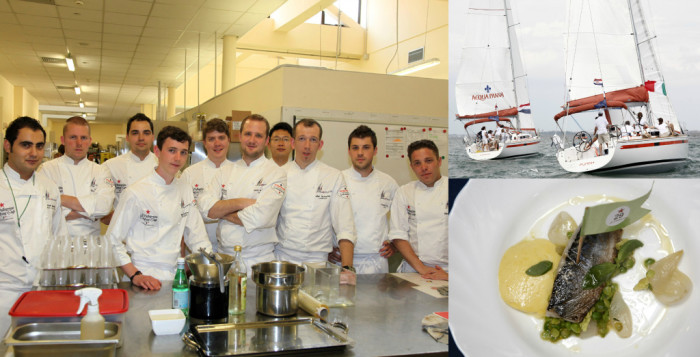 The S.Pellegrino Cooking Cup might be one of the weirdest cooking/sailing competitions on the planet. It also might be the only cooking/sailing competition on the planet. Chefs and their crew from 10 different countries sail on a boat race in Venice's lagoon while also preparing a meal with a handful of ingredients that was just revealed to them. Waiting on hand is a jury of 10 well-known chefs. The winner of the Cup will be the boat that finished best in the race and whose food scored highest with the jury.
This year Australia, led by chef Richard Ousby of Quay in Sidney, took the prize. Their boat came in second (behind the Chinese) and chef Ousby's dish—mackerel in a garlic meringue—scored the best of all with the judges.
We sent writer David Farley there to cover the action (see his full recap). While he was there he asked all the participating chefs, and most of the judges, one burning question: What is your favorite dish to eat in Italy.
Anatoly Kazakov of Bon (Moscow, Russia)
I've been to Italy seven or eight times and I can say that I don't have a favorite dish. Just a favorite product: artichokes.
David Frankel of Pronto (Tel Aviv, Israel)
Veal Tonnato. I had it at Combal.Zero (in Rivoli) a few years ago. It was really less about the food and more about the humor of the experience, really. I can't remember much of what I ate but I remember the veal tonnato and it was great.
Cai Chen of Langham Restaurant (Shanghai, China)
For sure I'd eat seafood risotto.
Lorenzo Cogo of El Coq (Vicenza, Italy)
T-bone steak. I discovered this cut of meat when I worked in Spain and I love it so much. I now cook it at my restaurant here in Italy. I love meat.
Jacob Holmstrom of Gastrologik (Stockholm, Sweden)
I've only been to Italy twice so I don't have a lot of experience to go on. But I'd go with pasta or I'd go to Naples and eat a margherita pizza.
Jouni Ibrahim of Li Beirut (Dubai, UAE)
Ham and pasta of some sort. I'd also eat spaghetti alle vongole.
Richard Ousby of Quay (Sydney, Australia)
I'd start off the morning with a cappuccino. Then for lunch it would be pizza. Just something with a simple, thin crust. And I'd follow that up with an Aperol spritz.
Joel Schaeffer of Merterthe (Luxembourg)
My favorite is always risotto. As simple as possible.
Martin Volkaerts of L'Air du Tempts (Novilles sur Melhaigne, Belgium)
I guess I'd have pizza. Just yesterday here in Venice I had a great pizza with anchovies and olives.
Dennis Von Dop of Hofstede Meerzigt (Zoetermeer, Netherlands)
I'd eat a lot of tomatoes. And also pasta with truffles.
THE JUDGES
Francesca Barberini of the Gambero Rosso TV channel (Italy)
As an ingredient, I love pasta. One can use it in so many ways. When you change the sauce you can have so many different dishes. It's so changeable!
Daniel Berlin of Krog I Skane Tranas (Tranas, Sweden)
I'd definitely go with pasta. Just a few days ago here in Venice I ate tagliatelle with fresh herbs and scallops. It was great.
Massimo Bottura of Osteria Francescana (Modena, Italy)
I love when food has an approach that is much more intimate. I was the youngest one in my family and my siblings would pick on me and kick and hit me often. So I'd run into the kitchen where my grandma would inevitably be in there cooking. When my siblings would run in there after me I'd be under the table hiding and my grandma would shoe them away with the threat of swinging her rolling pin at them. Meanwhile I'd be snatching raw tortellino from under the table. So…I'll go with raw tortellino.
Mauro Colagreco of Mirazur Restaurant (Menton, France)
I'd go back to Portofino (in Liguria) to eat shrimp carpaccio. It's a special shrimp from the area called Gamberone.
Johnny Gu of Le Sun Chine (Shanghai, China)
Oh, such a hard questions. I'd probably just eat pizza. Everyone loves pizza, right?
Luke Dale Roberts of The Test Kitchen (Cape Town, South Africa)
I love eating the rustic local cuisine. I had an incredible lunch at Massimo's recently (Osteria Francescana). It was just on a totally different scale. If I were in Italy on holiday, I'd eat the stuff that each town or region is known for. I'd go to Bologna to eat Bolognese ragu. I'd go to Naples to eat pizza, and so on.
Dimitry Shurhsakov of Chaika (Moscow, Russia)
I would take a Florentine steak. If I wanted pasta, though, I'd just have pasta with cheese.