Matt Lambert Is Taking Over Our Instagram At This Weekend's MAD Foodcamp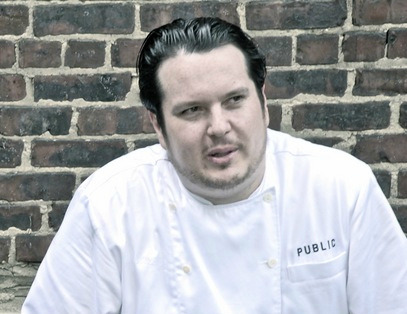 We're big fans of Instagram, a social network that's like Flickr for your phone. You may have heard that Facebook bought the company? It's really simple: users post photos (made cooler with filters) and follow their friends who do the same. Like Facebook and Twitter, we are all about using Instagram — specifically for documenting the great things we're eating and drinking here in New York or on the road. Think stuffing sea bass in the Oceana kitchen, Spam sushi and some freaky good pizza.
We've also found that chefs are into Instagram too. That's why we've enlisted Matt Lambert, Chef de Cuisine at New York City's Saxon + Parole, to takover our account this weekend. He will be attending the MAD Foodcamp in Copenhagen, Denmark — a two-day symposium assembled by chef René Redzepi of the famed restaurant Noma. ("Mad" means food in Danish.). We look forward to photos of lectures, foraging and maybe a little late-night drinking. These are chefs after all.
And you might be wondering how to follow Food Republic on Instagram? It's easy. Once logged in, search for our username, foodrepublic, in the Find Friends menu. Boom. Food porn. And if you don't have Instagram, we will be posting the photos on our Twitter account: @FoodRepublic. And if you don't have Twitter? Good god man!
---
More Instagram Takeovers on Food Republic: