Olympic Gold Medalist Garrett Weber-Gale Once De-Seeded 10,000 Rosehip Berries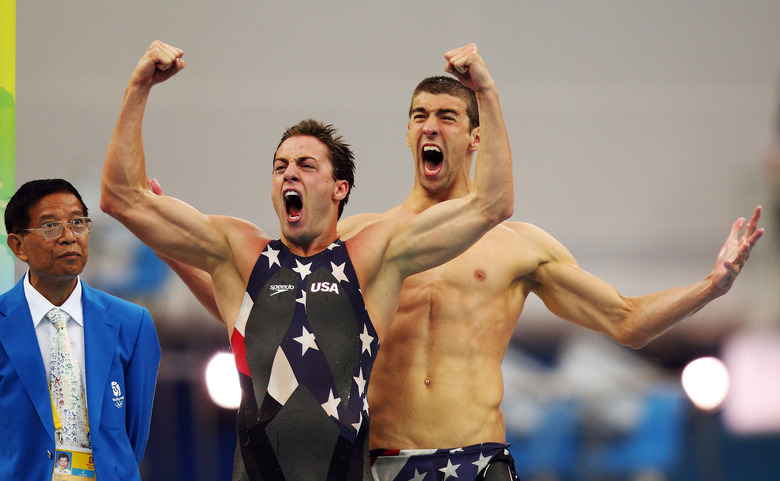 "I just cooked a piece of salmon, and it was so delicious!" enthuses the giddy voice on the phone. "I caramelized shallots and then put some beef stock in the pan, added a couple sage leaves and I ate that. Oh my GOD it was crazy!"
It's not exactly what you expect to hear from a two-time Olympic gold medalist a few days before he's due to compete for a spot on the USA's swim team for the 2012 Olympics.
Then again, Garrett Weber-Gale is not exactly what you expect from an Olympian. Yes, like other elite athletes, he is preoccupied with his training: his stroke, his kick and how his legs are feeling in the water today. "I am feeling great and swimming fast and super excited," he says before competing in this week's qualifying rounds. But, he's also thinking about how to create a better protein bar (he's experimenting with dehydrating bananas in his oven at home in Austin, TX) and reminiscing about the time he has spent staging in the kitchens of top international restaurants like Daniel, Maison Troisgros and Noma, where he was put to work deseeding 10,000 rosehip berries.
Ever since a chance encounter with Daniel Boulud on the set of the Today Show in Beijing after winning a little relay race with Michael Phelps, Weber-Gale has found time to train in the kitchens of the world's culinary elite, too.
After swim season ended in 2011, Weber-Gale shipped off to Noma and found himself doing a completely different kind of training — staging in the famously austere kitchen of Rene Redzepi. For Garrett, his focus was not only on tasks like separating out tiny beechnuts from their shell, but how not to lose muscle mass while following the ascetic eating patterns of the prep staff at Noma. It was a far cry from the five meals a day he ate during training season.
"I had to be diligent about doing whatever I could to not lose weight," Weber-Gale says about how he kept his calorie count high. "Whenever there was an opportunity to eat something, you ate it." While foraging for rosehip berries, he encountered a mirabelle tree, and "ate 10 plums because I was so hungry."
"I was eating lettuce like crazy at Noma," he says. "For one dish, all they wanted was the salad root. You take the tough, dirty part off the outside of the root and then shave it really thin on a mandolin and use it in the salad. They don't need the leaves, so they're throwing away boxes and boxes of salad. I would be outside after they brought in all the roots, pounding these heads of lettuce because I was so hungry and it was the only thing there."
It can be tough to regain strength and muscle, and Weber-Gale was particularly conscientious being smaller for the sport as is. At 6'2", his height is swimmer-typical, but his build is slight and he has average-length limbs. His kick, however, is another matter. "I'm definitely probably one of the smallest in my event, but my kick is really incredible. I say this in the most humble way possible, but I have one of the best kicks in the world." This allows allows Weber-Gale to compete alongside much beefier, bigger competitors.
A year before his stage at Noma he went to work at Maison Troisgros, a three-star Michelin restaurant in Roanne, France, after having nearly given up swimming entirely. But seeing the senior chefs there, working alongside the world-renowned master Florent Boivin, he changed his mind.
"I wasn't sure I wanted to keep swimming anymore because I was sick of it and thought I should be doing something that made more of a difference," he recalls. "The chefs there reinvigorated me though. I asked Florent if he got sick of coming to work, if he got tired or ever lost ambition. He told me he has an obligation to continue pursuing his talent. It's unusual to find something you're talented at. So now I feel I have an obligation to mentor other guys on the team like I was mentored."
And since he can't swim competitively forever, Weber-Gale is also glad to have found another calling. "My goal after swimming is to focus on helping people live healthier," he says. "Delicious food can be healthy for you, too, and it's not that hard to make. Everyone knows we are in a seriously bad place with the health of America and I think I can make a difference here."
Weber-Gale does mentor his teammates and is also the go-to guy when it comes to culinary questions. Not that the other swimmers are as interested in the surprising flavor profiles of salmon in beef stock. Weber-Gale often fields questions about healthy alternatives from other swimmers who see him bringing his own food at meets. Sometimes he even goes to the grocery store to show them how to shop.
Weber-Gale got interested in food and cooking when he was diagnosed with high blood pressure. Gone were the days of "eating whatever I wanted because as a swimmer I knew I would burn it off," he recalls. "It doesn't matter if you burn it off because you aren't getting enough nutrients."
"I was forced to start cooking and eating healthier," he says. "I was feeling so much better and performing better. Once people realize how much better and how good, vibrant and awake you can feel when you start eating healthier, I think the choice will be clear."
More athletes on Food Republic: