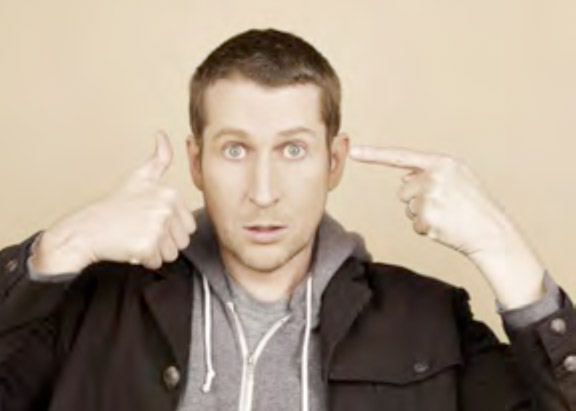 Comedian Scott Aukerman recently debuted his latest project, Comedy Bang! Bang!, a sort of mock talk show that features A-Plus-List guests, a musical sidekick in Reggie Watts and weird gags like a "sketch sommelier," who recommends wines to go with each part of the show. (Sadly, the wine expert met his demise after episode 1.)
The show, which airs Friday nights at 10/9 Central on IFC, is hilariously awkward and should soon find a following for another Aukerman project, Between Two Ferns with Zach Galifianakis on Funny Or Die.
Galfianakis is one of the big-name guests who enter Aukerman's alternate reality on Comedy Bang! Bang!, along with Paul Rudd, Jon Hamm, Amy Poehler, Michael Cera, Seth Rogan — the list goes on. But that's not why we wanted to talk to Aukerman, who's also had a long and fruitful standup career as well as a memorable run on the beloved-by-some Mr. Show. We wanted to find out what he eats. He told us, plus a whole lot more, including what he will or won't put in his mouth.
Aukerman noted that future episodes will feature him and Watts making sandwiches, as well as a guest appearance by celebrity chef Bellini Pastafongu. "There is no more food-oriented show on TV than mine," he boasts. "Including everything on the Food Network!"
Let's start with the food questions: What's the first thing to hit your lips in the morning?
Wonderful sweet oxygen followed immediately by a cup of very strong coffee.
What's your pre-performance eating routine?
That was my one indulgence where I acted like a Hollywood big shot [when I got the show on IFC]. Every TV show I've ever done I've gained weight, because typically when your'e on a set the food is really fattening. A typical meal would be pizza or Chinese food. So my one indulgence was not a bigger dressing room, not a limousine to the set, but just to have my own personal meals delivered to me during the shoot. I made sure to have low-fat stuff that would not drag me down, a lot of fish and chicken breasts and rice — stuff where I wouldn't bloat up like a giant gargoyle. And it worked. It's the only show that I actually lost weight while shooting.
As a standup comedian, have you ever had food thrown at you?
Because I 've been producing a live standup show for the past 10 years [also called Comedy Bang Bang, along with a podcast], I've seen people throw food at [comedians]. Neil Hamburger has had a lot of stuff thrown at him over the years — drinks, sandwiches, birthday cakes. I've avoided food being thrown at me for most of my career. I hope I'm not tempting fate right now.
What are your favorite food cities?
Every time I'm in San Francisco I have to go the House of Nanking. I'll be sitting here in the middle of the year and I'll go, Gosh I gotta go to San Francisco just so I can go that restaurant, which is insane. In NYC, I like to go to Momofuku and Milk Bar.
Anything you won't eat?
The one thing I can't abide by is peppers.
Red peppers?
Red peppers, green peppers — whatever color peppers you have, I'll turn 'em away
But they're funny-shaped vegetables!
Just because I'm a comedian doesn't mean I like funny things going in my mouth.
What other foods have comedic possibilities?
I used to write really bad parody songs under the moniker Weirder Scott Aukerman, and I wrote a whole song about the fruit the tangelo, which was a parody of U2's song "Vertigo." All about a tangelo farmer who bought a huge crop of them and couldn't sell them at a farmer's market. That word is very funny.
How do you feel about fast food?
I'm blessed to live in Southern California, where there's an In 'N Out on every corner. I feel sorry for people who don't live here who don't get to experience that.
What's your order?
This is gonna sound grotesque, but I usually get a four by four, which is not on the menu. It's In 'N Out slang for four meat patties and four slices of cheese on one bun.
Do you think there are any funny chefs?
What's that guy's name, Emeril? Man, the way he says Bam. I laugh for hours and hours. But you know that show Diners, Drive-Ins and Dives?
Yeah.
If they would sell DVDs of that show and just cut out any time Guy Fieri ate anything, I would buy every season of that show. I never want to see Guy Fieri put anything in his mouth ever again.
Let's talk about your career. I wanna geek out and tell you that Between Two Ferns is one of my favorite things on the Internet. Did you know it'd be such a sleeper hit?
We knew from the minute we did it that it was really funny, but we had no aspirations for it to be anything. We just put it up on the Internet for a lark because we didn't know what to do with it. Funny or Die had just started I think, so we said, let's put it up on this website. I just can't believe the millions and millions of people who've watched it. It's insane to me. The other day someone forwarded me a link of a couple of the Los Angeles Dodgers parodying it in their own video. They made their own Between Two Palm Trees video, which is so strange — and by the way it's really really funny. (Watch Dodgers A.J. Ellis and Clayton Kershaw parody Between Two Ferns.)
Did Ferns directly lead to Comedy Bang! Bang!?
No, I don't think so. I think everything I've done over the years has indirectly led to Comedy Bang! Bang!
How do you get such big guests?
I've worked with a bunch of these people over the years; they were all really excited to do it. Amy Poehler, I've had a show at her theater in LA for the past six years. I've played poker with Paul Rudd and Jon Hamm for 10 years. It got this reputation as something that was really fun for people to do.
What was the dynamic with Reggie Watts?
The very first time I saw Reggie I didn't quite understand what I was seeing. It was like how they say when you see God you have to make your brain view it as something that your brain can understand. I didn't quite understand the first time but the second time I was like, Oh I get it, and thought he was a genius. He's done my live show over the years, and the podcast he's done quite a few times and did the theme song to it. When we were talking about what we wanted to do with the talk show trope of band leader, my mind immediately went to Reggie and I immediately wanted him to do it. Thankfully he agreed to do it. (Watch Reggie Watts and Michael Cera sing about pies.)
Have you heard from Jimmy Fallon or Conan? In a way you're kind of sending them up.
I have not. I've tried to get on the talk shows. I thought that getting my own talk show would help me get on a talk show. I don't think that any of the talk show hosts have seen it yet. I'd like it to remain a secret right now so they don't know I'm making fun of them.
More Comedy Week on Food Republic: