Los Angeles: David Lynch's Trippy Champagne Party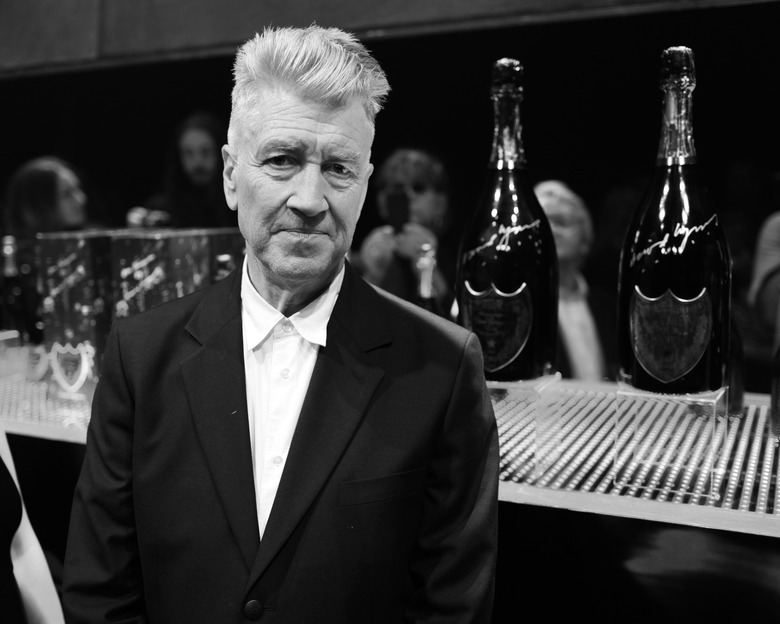 Let's do a little Hollywood math. [(David Lynch x Dom Pérignon) + The Kills + Diplo]/José Andrés' The Bazaar = ? If you answered "a crazy party," give yourself a round of applause – then check yourself into rehab because that equation should only make sense to someone in the middle of a drug-induced fever dream.
Last Wednesday night marked the global launch of the limited edition collaboration between mysterious director David Lynch and super luxe champagne Dom Pérignon, which meant that a Hollywood studio was converted into a dark funhouse complete with random art exhibits, chalk-holding guys dressed like turn-of-the-century British coachmen, and small cubes of foie gras covered in cotton candy. Truth be told, it felt quite a bit like a club Stefan would describe on SNL's Weekend Update. You know, it's that thing where a famous director collaborates with an international champagne brand and an albino samurai walks around...
To say that the event was theatrical is like saying Twin Peaks was a little odd. David Lynch made his grand entrance flanked by an army of cameramen – both still and video – and once he made it into the main studio area, a huge mechanized display lifted to reveal the new Lynch-designed bottles of Dom. It was quite the spectacle, only matched by those in attendance. Some of the highlights: an elderly lady in a bowler hat with a nose ring, one guy dressed like Prince going as Michael Jackson for Halloween, about 40 dudes that looked like Moby, and, of course, there was the samurai and his date, who appeared to have shaved the front half of her head but perhaps ran out of batteries in her hair clippers and never made it to the back half.
From a food standpoint, this evening was awesome. Every party should be catered by Andrés' The Bazaar. Strauss veal loin, liquid olives, a gazpacho made from nitrogen – it all fit the decadent weirdness vibe perfectly. It didn't even matter if you liked the food because chances were you were getting blotto on the bubbles. Roving servers were doling out the 2003 vintage and the 2000 rosé and if you kept your eyes opened, it was fairly easy to stay topped off.
There are some nights where you have to take a step back and realize that Hollywood gets a reputation for a reason. This was definitely one of those nights. When you go to a party "directed by" David Lynch, it's all just part of the equation.