8 USB Food And Drink Gadgets That Actually Work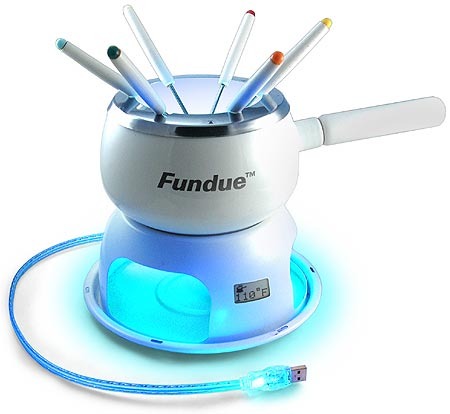 While there's no shortage of USB drives shaped like food, we were curious to see if there were USB drives that were actually useful when it came to eating and drinking. These gadgets may not conduct much energy, but leave it to the world's nerds to compress a whole kitchen's worth of cooking tools into the leanest Lean Mean Fat-Reducing Grilling Machine you've ever seen. Break out the domino-sized steak. It's time for some culinary magic, from the comfort of your very own desk.

USB Mini-Fridge and Heater
Now here's something useful. How many times have you brought a freshly brewed cup of coffee to your desk only to immediately forget about it until it's too cold? It happened just this morning, you say? Well if you had a USB mini-fridge slash heater your coffee would be back at a toasty 116 degrees before you could say "we have a microwave in the kitchen." Ditto the freezer function which keeps drinks at a chilly 54 degrees — no more "kinda cold" soda for you. $35 from usbgeek.com
USB Lunch bag
Why refrigerate your lunch only to reheat it hours later? Well, food safety for one. But if you're living on the edge and feel like having semi-overcooked food, simply plug your lunch into your computer and it'll stay hot until you're ready to eat. Or until it disintigrates into a much more easily-digestible mush. Mmm. $35 from usbgeek.com
USB "Gas Stove" Cup Warmer
If you find yourself with more warming needs than chilling, the USB cup warmer is the way to go — the space-efficient design can fit even on the most crowded and therefore flammable of desks. The "gas stove" design keeps your hot beverage at the perfect temperature, which is great, because you'll need the caffeine to quickly extinguish any flames that may pop up. $18 from usbgeek.com
Power Hour USB Shot Glass
Now this is a cool invention. We can only speculate what's on the 60-song Power Hour playlist built into these USB-charged shotglasses, but if "Livin' On A Prayer" isn't, we'd probably still give them a chance. Places you might really need these: airplanes, jury selection rooms, intensive care units and other places where you may only have your computer to charge your most important devices. $30 from alispagnola.com
George Foreman USB iGrill
Ever reaped the benefits of a web-based cooking interface that produces a pleasant flashing light when your burger is done? Well hook this gem up to your computer, learn all of Mr. Foreman's most important grilling secrets, let the Internet sense when your steak is medium-rare and have the best excuse ever for why your expense report is covered in grease splatters. $99.99 from thinkgeek.com
Fundue Desktop USB Fondue Set
Scenario A: You bring a full-on fondue set into the office and yell "fondue party!" Nobody reacts, and you're the weirdo who thinks impromptu fondue parties at the office are a good idea.
Scenario B: You connect this little hot tub to your computer and holler "oh my god, my fondue set plugs into my USB port?!" Suddenly you're surrounded by only the best-looking people at the office as they vie for their favorite color of fondue fork, and eagerly discuss the merits of kirsch. $29.99 from thinkgeek.com
USB Desktop Coffeemaker
This one is decidedly less complicated. As far as calorie savers go, however, you can bank on saving at least 8 by not walking to the kitchen and back. Plus if you're only in the market for one cup, you won't have to make a whole pot. Yup, the reasons to have one of these just keep piling up. Have they made a USB milk frother yet? They have not. $31.39 from firebox.com
and if it's opposite day...The Power Pot USB Charging Device
Now here's a good use of thermodynamic energy. Here's what you do: make something in the Power Pot, a portable electric generator that just happens to double as a cooking pot. Then, use the residual heat from the pot to charge a device using the USB port. Particularly useful in blizzards and stakeouts, the Power Pot will certainly be the only reason you ever make chicken tortilla soup because your phone died. $149.00 from thepowerpot.com
---
More cool gadgets at Food Republic: