What I Say To People Who Say They Don't Like Gin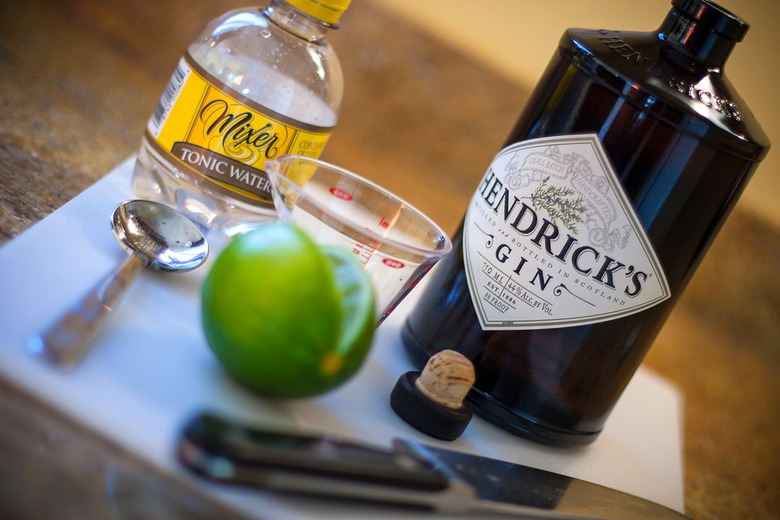 A Brief History of Gin
When I first came to the U.S. in 2001, gin was the black sheep of the spirit family. It was really out of favor. At the same time cocktail culture was in a pretty poor place as well. I had come over to launch a gin brand and everyone told me that no one here drank it anymore since vodka had stolen its thunder.
I always think of the period between the 1890s and Prohibition as the glory days of the cocktail. That's when the martini came into vogue and when many of the classics were invented. Back then, gin was the number one white spirit in America. When Prohibition hit in 1919, bootleggers made bathtub gin. They hadn't been introduced to vodka yet. It would have been easier to make vodka than gin, but no one really knew what it was.
Vodka vs. Gin
When Prohibition ended, gin had a short spike in popularity, but it was clearly time to move on (bathtub gin wasn't such a good branding exercise for the spirit, apparently). The stage was set for vodka.
Vodka was introduced into the U.S. toward the end of 1930s. Hollywood was quick to adopt it, making it the new cool spirit. Smirnoff began advertising vodka as the spirit that "leaves you breathless," implying that unlike gin, you could drink vodka during a three-martini lunch and your boss would be none the wiser. The Rat Pack started drinking it, suddenly James Bond was ordering vodka martinis and in 1967, vodka overtook gin in popularity just as cocktail culture started to decline.
But what people need to understand about gin is that it's the quintessential spirit for mixing cocktails. It's not a spirit for drinking on its own, like brandy or tequila, and that's why it is the basis for more classic cocktails (martini, gimlet, negroni, Tom Collins) than any other spirit. By mixing or shaking a drink you make the botanicals come to life in a way that they wouldn't if you simply sipped it.
Gin's Comeback
Now that cocktail culture is back in favor, so is gin. It's been rediscovered by bartenders who appreciate how well it mixes. Julie Reiner, Audrey Saunders and Sasha Petraske all championed gin back in the early 2000s. But there are still holdouts among American drinkers who aren't convinced. What I say to them is that not liking gin is like not liking sauce. There are hundreds of botanicals used to make gin, and every gin has its own specific recipe.
Gins By Flavor
If you like the flavor of lavender, you should buy Aviation gin. If you like that classic pine needle flavor that comes from juniper, try Junipero. Hendrick's famously features cucumbers and rose, Beefeater 24 showcases sencha green tea and grapefruit. And newcomer Bombay Sapphire East highlights lemongrass and black pepper. The variety is astounding.
So the key is finding the right gin for you. Paying attention to the ingredient list is the best way to start. That and tasting as many gins as possible.
The three quintessential drinks that you can make to benchmark a gin are a classic martini, a gin and tonic, and a sour. By making those three drinks you can see how best to use the gins you like in almost anything. If you like a gin in a gin and tonic, then it will work well in other long drinks like a Tom Collins. If you like a gin in a sour, then it can be used to make any other gin cocktail. And if you like a gin in a martini, well then you're set for martinis.
Here are the gins to try if you like other spirits:
For vodka drinkers: A good starter gin if you like vodka is Plymouth gin. It's subtle and elegant.
For whiskey drinkers: Try a Bols Genever gin, which is a Dutch-style gin made with malted grain. It almost tastes like half-gin, half-whiskey.
For malt whiskey drinkers: If you like full-on malt whiskeys like Islay then I would suggest going for Old Raj gin. It's made with saffron and it's really, really strong with a high ABV.
For rum drinkers: If you like slightly sweeter things like light rum, then go for Hayman's Old Tom gin. It has a sweeter, citrus-y flavor.
For brandy drinkers: If you like brandies like cognac, try G'Vine gin, which is distilled from grapes.
For gin drinkers: If you're a true gin drinker you'll probably love Beefeater. They call it the gin drinker's gin for a reason. It has a very bold flavor.
More Drink Ford Tough columns: