The Oaks Gourmet Burger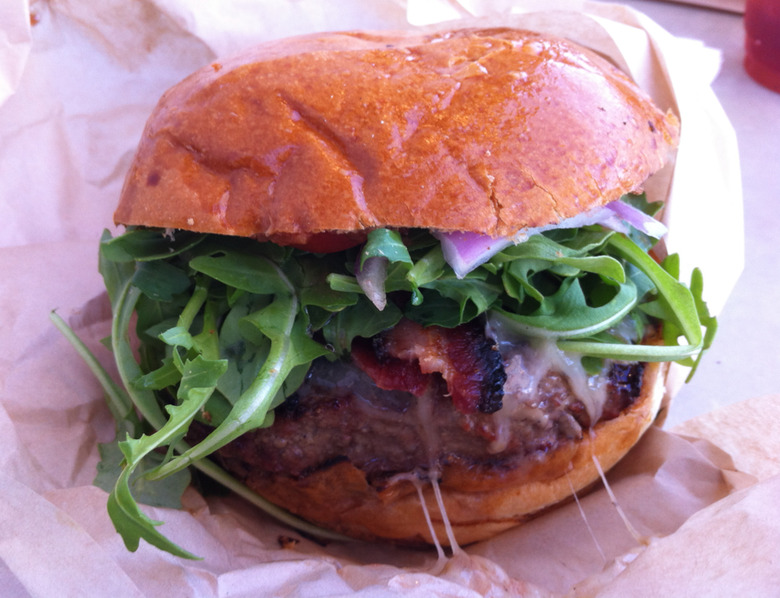 The Dry-Aged Burger at The Oaks Gourmet has gotten a lot of accolades in LA. Food Network, LAist, and LA Weekly have all weighed in with glowing reviews and, after tasting it, we can confirm that this is a burger worth checking out. Or, rather, picking up. That's because The Oaks Gourmet isn't really a restaurant. It's a marketplace. A well-stocked marketplace, to be sure, but not one that makes you want to hunker down at a table with a great burger and chill for a while.
Sitting on the corner of Franklin and Bronson, The Oaks Gourmet could easily be called the nexus of the Hipsterverse. If you sit at one of the outdoor tables, you will see three things over and over: Ray-Bans, flannel and hats. This applies to both men and women. With the Upright Citizens Brigade Theater around the corner and the Scientology Celebrity Centre across the street, the case can be made that The Oaks Gourmet (complete with excellent craft beer selection, coffee bar, and artisanal Cake Monkey desserts) is the epitome of Hollywood. So if you're not into the dress-up party, it might be a good idea to get your burger to go.
Great burgers require alchemy, and this one is no different. Half a pound of dry-aged chuck and sirloin sits on a brioche bun that performs admirably against the heft of its contents. A thick slab of stinky taleggio serves as a buffer between the meat and veg, and its ooze-factor alone is enough to make you appreciate the choice more than classic cheese options like cheddar, American or Swiss. Thick chunks of Black Forest bacon come next, and then it's time for a deconstructed salad of arugula, tomato, red onion and a smoked jalapeño-pineapple compote that puts ketchup to shame. Almost every option is slightly skewed from your traditional bacon cheeseburger and that's exactly why The Dry-Aged Burger stands out over its peers.
So go ahead, brave the skinny jean storm and get yourself to The Oaks Gourmet. Just don't stay too long or you'll be forced to start telling people you listened to Bon Iver before they got big.
More Burgers of the Week on Food Republic: