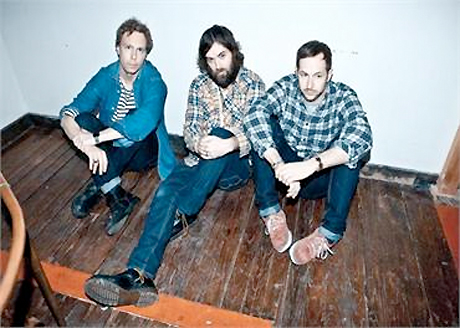 Touring musicians have a great gig. Rock and roll! It's doubly great when they're interested in exploring the international culinary world. We do realize some bands subsist solely on Taco Bell and Coke Zero. Shame on them! There's Hatch chile to sample in New Mexico. Pappy Van Winkle in Kentucky. Doppelbock outside Hamburg. Tortas on the California-Mexico border. In Good Food, Rocks, we track down a band member serious about their grub—and who has held a job in the food industry too.
After naming their sophomore album Candy Salad, it stands to reason that Suckers vocalist Quinn Walker and everything-else-man Brian Paneccasio, a.k.a Pan, have enthusiasm for good grub. While both profess a deep love for sushi at Williamsburg joint Bozu, we wondered what else the Brooklyn-based group likes to eat — and after a month of touring, how they found the food on the road. But first, the most important question, what the heck is a candy salad?
The name of your latest album is Candy Salad. Where did the name come from and are you on Team Candy or Team Salad?
Quinn: Candy salad is a dish my fiancée came up with as a little kid. She would take all the gummy, sour, fruity and colorful candy, or cut up chocolate candies, and mix them together in a bowl. I'm more of a candy guy. Pan has declared he's salad in the past, but he can answer that for you.
Pan: Yeah, salad!
On an average day on the road, what do you eat?
Pan: We usually get Starbucks in the morning since it's pretty much the only place in the Midwest that has decent coffee. I never drink it otherwise. Usually I also get their healthiest breakfast sandwich and then grab some kind of trail mix for the road. I like the one with M&M's in it. Some clubs have there own food, which is almost always bar food, and if not, then we end up going to get food down the street, which is usually bar food too. Chicken quesadilla is my go-to, but if I can get something with vegetables in it, I'll go for that.
Quinn: For me it's a breakfast sandwich and a salad with some meat on it for dinner with the occasional gas station beef jerky in between.
What's the best thing you ate on the road?
Pan: Recently, I had the best fried chicken of my life at Beasley's Chicken + Honey in Raleigh, North Carolina. Afterwards, I realized that the chef, Ashley Christensen, was on The Next Iron Chef and I kind of geeked out because I love that show.
Quinn: My favorite was the honey butter chicken biscuit at Whataburger.
Any place you look forward to eating at again?
Pan: Pappy's Smokehouse in St. Louis, it's still my favorite BBQ spot to date.
Quinn: Lots, but mainly Whataburger.
Which city do you think has the best grub?
Pan: New York City because there's so much variation and all the best chefs come to New York to open restaurants. Plus, there are so many different kinds of food and new places opening every day.
Quinn: New York, of course. The food here is very good, if not the best, and it incorporates dishes from all over the world all in one place.
What bar or restaurant do you always hit right away after touring?
Quinn: Bozu for sushi, the Manhattan Inn for cocktails, and Whirly Bird for breakfast tacos.
Pan: I dig the Meatball Shop in Williamsburg and everything Quinn just said.
If you could bring any chef with you on the road to cook for you, who would it be and why?
Pan: Geoffrey Zakarian, even though I've never had his food. It always looks like the best dish on Iron Chef, and then, he won. When I'm not so broke I want to go to his restaurant The National.
Quinn: I would bring my fiancé along because for one, she makes a lot of comfort food and two, I'd just like her to be there.
What is your ideal meal?
Pan: Probably sushi is the most ideal food since it's good for you, delicious and it doesn't make you feel horrible after. Bozu and Blue Ribbon are my favorites in New York.
Quinn: A chicken Balladino sandwich from Balladino's in Madison, Conn. It's a chicken cutlet with herb mayo, roasted red peppers and mozzarella on a delicious roll. I like to add lettuce too. It would be even more amazing if a party bomb from Bozu surrounded it, which is 19 pieces of sushi done to perfection.
What's your earliest food memory? 
Pan: My grandmother cooking pasta from scratch. I would come home from school and there would be pasta drying out all over the house.
Quinn: I remember eating broccoli like I was a Brontosaurus in the trees. I was about 2 years old.
When you're recording is there any food or drink that you need to at the studio?
Pan: Coffee.
Quinn: Booze, especially bourbon and tequila.
Has anyone tried to impress you with a meal?
Quinn: My fiancée has, and she does a great job. She likes to cook me recipes she discovers from Epicurious and Punchfork, any of her favorite food blogs.
Pan: And my girlfriend makes amazing pizza.
Is there a spot you Suckers like to hang out?
Pan: Yeah, the practice space, which is attached to the bar Crown Victoria. They have awesome wings.
---
More Good Food Rocks on Food Republic: