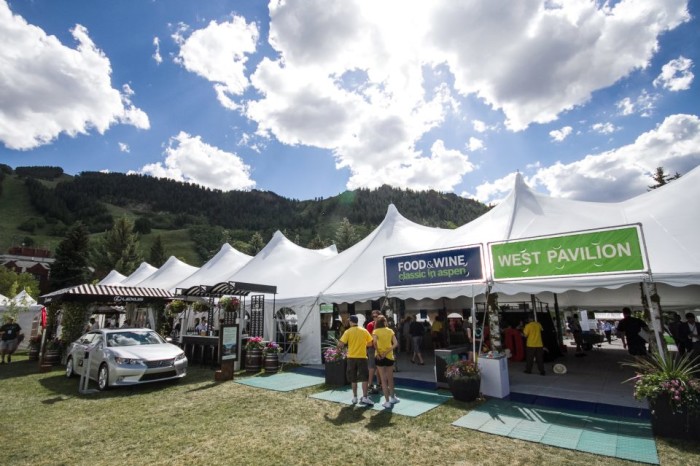 Now in its 30th year, the annual Food and Wine Classic in Aspen is like summer camp for celebrity chefs, media and food fans swarming the sleepy Colorado town. We were on the ground for a number of the events and currently writing, hungover on pork, in the lobby of the St. Regis. An Elton John and Steely Dan cover duo plays. It's working. We rewind with some high highlights.
Opening party at the St. Regis Aspen
The traditional kickoff cocktail event at the Classic always goes like this: People arrive, sometimes bitching about the long drive from Denver. Sometimes rested because they went for a hike earlier in the day. Water is consumed more frequently than tequila. Hydration! And Top Chef alums serve dishes to the crowd around the pool.
This year Richard Blais, Spike Mendelsohn, Fabio Viviani (still hanging around!), Paul Qui and Jennifer Carroll made the trip, serving dishes inspired by their travels to places like Mexico, Italy and England. Mendelsohn won the longest line award with a simple piece of fish, fried golden brown, sided with tangy aioli. Blais did blood sausage and pork belly. But Qui won our vote with a combination of corn milk and roasted corn, dusted with togarashi and cilantro. Good one Paul Qui.
José Andrés Epic Wines From Spain Party
Co-hosted with The Cosmopolitan of Las Vegas, there were rumors that the house (more like estate) hosting this annual party is on the market for $27 million. It was ridic, as was the crowd brought together to drink Spanish wines paired with grilled pork belly and cod — cooked by the host himself. Roll call: Jacques Pepin, Michel Nischan, Tom Colicchio, Giada DeLaurentiis, Marc Murphy, Jonathan Waxman, Gail Simmons, Paul Qui, Kelly English, Andrew Zimmern, Paul Grieco and Best New Chefs Josh Habiger and Erik Anderson (The Catbird Seat) and Jenn Louis (Lincoln Restaurant, Portland). Here's our interview with Andrés.
Best New Chefs table at the tasting tent
The 12 Best New Chefs being honored over the weekend served in two hour blocks at the grand tasting tent, offering up their signature dishes and high-fives to the crowd. Dan Kluger (ABC Kitchen) did a bowl of sautéed sweet corn with manchego, jalapeños and lime, while Karl Nicolas (Equinox) impressed with pork belly and littleneck clams. Rich Torrisi and Mario Carbone (Torrisi Italian Specialties) served a fluke crudo. It was very good.
Casa Dragones party
In which 300 people gathered on the rooftop of the Dancing Bear and drank insanely expensive tequila out of custom Ridel glassware. We also learned that Sean Brock drinks a spirit other than Pappy Van Winkle. Good man.
30th Anniversary Party
Most of the people who dropped 350 large to attend Saturday night's benefit concert were there for Elvis Costello & the Blue Beguilers, who performed at the spacious Benedict Music Tent. Our headliners, on the other hand, were José Andrés, Mario Batali and Michel Nischan. They each brought some serious game when serving in clusters of tents in the middle of a nature preserve. It was beautiful, as was Andrés' over-the-top lardo and uni bite. Michel Nischan brought his Dressing Room team to the Rockies and served some of our favorite dishes: truffled cheese grits, citrus dry rubbed ribs and an Italian version of mac and cheese that will haunt our dreams.
Swine At The Mine
Infinite Monkey Theorem is one of the cooler urban wineries operating in the United States, selling a range of wines by the can — including Sauvignon Blanc and a sparkling Black Muscat made with grapes grown in Colorado's Western slope. On Saturday evening the Denver-based producer threw a crazy bash at Smuggler's Mine on the outskirts of town. And, yes, swine was involved in a huge way with dishes being served by Denver's Masterpiece Deli and Boulder pizzeria Basta, who did a bacon-wrapped hot dog, bacon ice cream and lardo topped with uni (the second appearance of lard + uni of the night!). Plus, lots of photos like this were taken.