7 Ways To Drink Aperol This Summer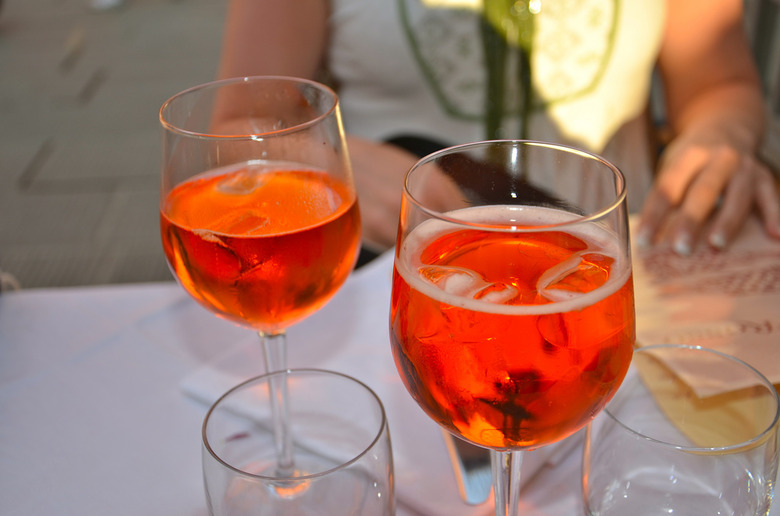 Beautiful and refreshing summer drinks.
You know we love us some Campari. We drink it up, down, we even occasionally eat the stuff. But in the summer months, we give in to the temptation of a little fling with its lighter, brighter, flirtier cousin: Aperol. Originally produced by the Barbieri brothers in Padua, Italy, Aperol is now part of the Campari family. It's made with typical amaro botanicals like bitter orange, gentian and cinchona, as well as rhubarb, the sour stalk that just screams summer. With less than half the alcohol of its darker, more bitter kin, it's perfect for all-day sipping.
Here are 7 ways to drink Aperol this summer:

As a highball: You really don't need more than a couple fingers of Aperol, a soda top and a lemon twist. But you can always embellish this simple cocktail with some fresh citrus juice and simple syrup or even make it as you would an Americano, the ever-popular Italian aperitivo that you can still order in just about every old-man bar in Italy — one-and-a-half parts Aperol (instead of the traditional Campari) to one part sweet vermouth, topped with soda and garnished with an orange twist.

As a variation on the beloved Negroni: Go ahead and swap out the Campari for a 1-1-1 combo of gin, Aperol and vermouth. Only, instead of sweet, use Dolin Blanc, an off-dry vermouth. It's what a Negroni tastes like through rose-colored glasses.

On the rocks: This one is pretty self-explanatory. Aperol is plenty tasty on its own, especially with an orange twist. Drink it outside — it's such a pretty color in sunlight. Like an orange creamsicle with a bittersweet bite.

With bubbly: Think of this one as a highball with an extra twinkle in its eye. Top a couple fingers of Aperol with bubbly instead of club soda. Prosecco is the natural sparkler for Aperol, but cava works just as well. Hell, top it with Dom Pérignon if you're feeling like a baller. And serve it in a champagne flute with a strawberry sunk to the bottom. It's one way to feel sexy this summer.

With fresh citrus: Here's something we discovered recently while playing around with Aperol: it loves citrus. We're going out on a limb here and saying you can replace half the fresh citrus in just about any one of your favorite summertime cocktails with Aperol for a little extra zing. It works with a margarita, a daiquiri, a julep; with lemon, lime and grapefruit juice... it might not be a fail-safe if you plan to get cute. But chances are, if you're shaking up a citrusy cocktail, a little Aperol will make it pop.

With rhubarb: There's rhubarb in Aperol, so it makes sense that it would go well with the sour stalk. The best way to use rhubarb in a cocktail is to make it into a syrup. (Chop several stalks and, in a saucepan, cover them with simple syrup. Bring it to a boil and simmer until the rhubarb is mushy. Strain and... voilà!) You can use this syrup in cocktails that call for simple syrup or sugar, like that daiquiri or highball we mentioned above, or to sweeten any Aperol drink you find too bitter. (What are you, a baby? It's already Campari-lite.)

With vodka: We love Aperol's low alcohol, but sometimes you want some kick to your cooler. And you can't always wait all day to get a buzz off Aperol spritzers. With its odorless, flavorless profile, vodka is perfect for adding a little sauce to your sipper. You lush.
---
More about summer drinking on Food Republic.