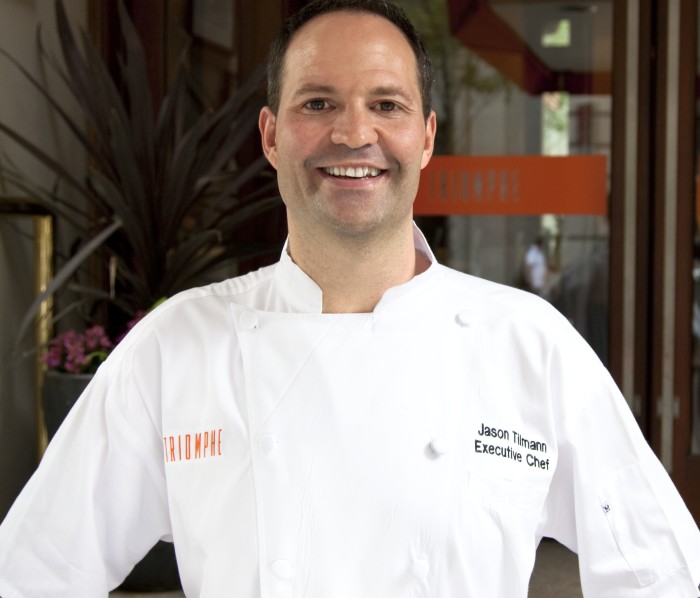 "Never trust a skinny chef." It's a quip that still holds true, even as the healthier eating bandwagon gets more and more crowded. Chefs are surrounded by the best ingredients, and it's their job to create delicious dishes. Being fat is an occupational hazard. Jason Tilmann, Executive Chef of Triomphe at The Iroquois Hotel in Midtown Manhattan, can certainly attest. His weight peaked at 300 pounds when he was a sous chef at Orchid Golf & Beach Club in Vero Beach, Florida. The late nights of drinking and eating nachos had taken a toll. One evening he had enough, and Tilmann decided to fight back.
We caught up with Tillman just as he was in the middle of the morning routine he now maintains to keep off the hundred-plus pounds he's shed. Like many New Yorkers, Tilmann begins his day at the gym. He spends at least an hour at the YMCA on 47th Street before heading to The Grand Central Market, where he likes to pick up fruits and produce for the day's specials at Triomphe. And then it's off to the kitchen, where Tilmann focuses on healthier alternatives for restaurant staples. We wanted to hear firsthand from the chef about how he lost the weight and keeps it off, and get his advice for fellow chefs that also are looking for a lifestyle change (and don't want to let go of their liquor).
For anyone who has struggled with weight, there really is an "a-ha" moment. Did you have that?
I was 300 [pounds] living in Florida, I was at an age I should have been in the best shape of my life. I drove in and I walked from my car to my house and was out of breath. It was a long day and I'd worked 12 hours and I was getting ready to get in the shower and there were all these mirrors around. I literally almost broke down. I thought, "Jason, what are you doing right now? Your mom is a diabetic and you should be a role model for people to try and be healthy."
So what was the next step?
I was with my buddies in that house and that night I told them I'm going to lose weight. Tomorrow I'm going to get up and go for a run. The next morning I got up and ran probably a quarter of a mile. I thought my heart was going to come out of my chest. I literally thought I was going to die. The next day I ran to the next mailbox, and then the next. Just that much more every day. It was about two or three weeks into it and [my friends] said you're not going to keep doing it. I lost 70 pounds in three and a half months.
What was your life like before that in Florida?
I was so happy I had found my niche; [my weight] was the only thing I was unhappy with. I was always a big kid but always active in football and basketball. I come from an Italian family. There's food at every party. Lasagna and pasta.
So how did your diet change?
I didn't really give up anything. I did restrict my carbs. When you start working out like that and you have yourself on a program, you become more in tune with your body. When you're starting to not eat things, you can feel it. I went high protein. When my body felt tired and I'd be on the machine or running, I would have some complex carbs. And that's where the culinary side played in. I know what's good and what's really bad.
We all know that chefs and anybody in the restaurant industry… well y'all really party hard.
I never stopped the "fun." I was young and hot to trot. I never wanted to not have fun, but I had the dedication. I remember days running around the neighborhood hungover. There was no more beer. I'd do red wine or a vodka drink with a soda. I didn't not have fun. My life wasn't over.
So you're on record for anyone trying to lose weight: put down the beer and pick up vodka soda.
I'm on record for saying if you're in the chef business and you're fat and you want to lose weight, you don't have to cut down on fun time. You just have to do smart fun time.
And now your gym routine seems quite regimented.
Six days a week. I usually take off Sundays. I'm usually at work by 10 so I'm up at 7:30 and I'm at the gym from 8 until about 9:20. When I started to work out all I did was run. Then I got cautious [about what happens] if something happens and my knees go bad. For the most part right now I come in and run, do the elliptical or swim. And I vary it. A lot has to do with the night before.
You're big into greenmarkets and you're even filming a pilot about shopping at the markets. What's the best piece of advice you can give someone about making the most out of a market?
People ask me when you go to a farmer's market in the summertime, what do you look for? I don't look for anything; the first thing I do is smell. With strawberries, you smell that almost artificial flavor, that's how you know.
---
More Chefs And Fitness On Food Republic: