In Season Now: Fourchu Lobsters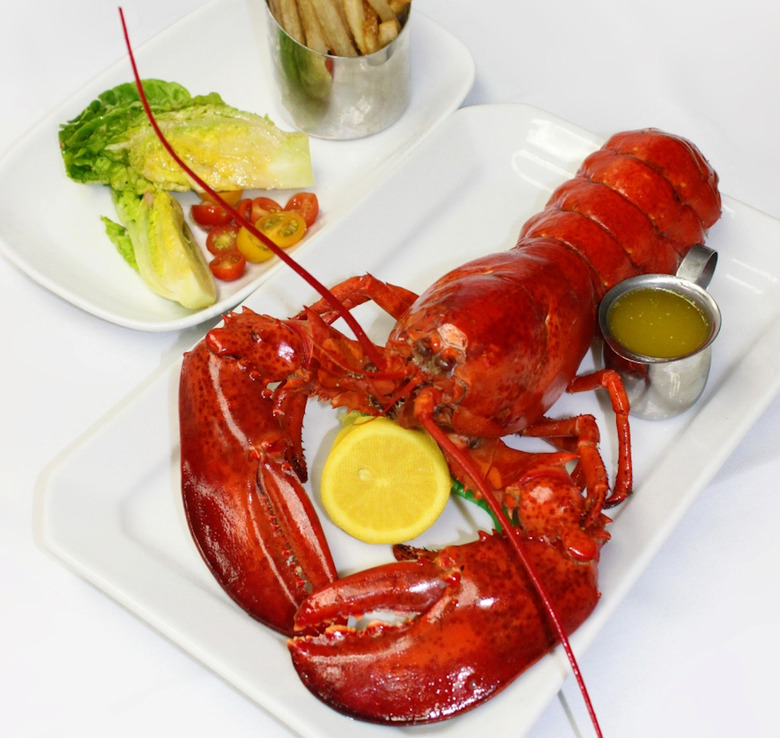 A certain type of a-hole will brag that it's a done deal if a lady orders the lobster on a first date. Frat-boy clichés aside, the crustacean often commands the highest price on a restaurant menu. But it wasn't always this way. The sea critters were once considered the lowest of peasant foods; they are essentially large aquatic insects, after all. It wasn't until the 20th century that these shellfish rebranded themselves as a delicacy. And it wouldn't be until several decades later that lobsters from a certain small Canadian town would become the toast of Manhattan fooderati.
The lobsters on everyone's lips these days are from the tiny town of Fourchu, on Cape Breton in Nova Scotia. How did a small fishing village on the coast of Eastern Canada with no more than 50 inhabitants get on the radar of a coterie of New York chefs and foodies? Fourchus' biggest cheerleader in New York is Dorothy Cann Hamilton, founder of the International Culinary Center. Her grandfather was born in the seaside hamlet of Fourchu and she spent every summer there as a child. She has spent many summers since then extolling the virtues of these special lobsters, urging chefs to "taste the difference" and put Fourchus on their menus.
"The fishing industry is dying and there is a reason to save these special tasting lobsters," says Hamilton. "I want our village of Fourchu to have a viable fishing industry."
Fourchu lobsters have been called the kobe beef of lobsters (sorry, Maine) and compared to such revered specialties as Ibérico ham. They are said to be sweeter and more flavorful than their brethren from other places thanks to the frigid waters in which they live and grow. The icy Atlantic makes for a super-slow maturation; the idea, like slowly ripening grapes on a vine, is that more time allows for more flavor complexity to develop. Lobsters were once thought to be scavengers, scouring the ocean floor for carcasses. But they've actually been found to prefer fresh fish, so you can rest assured that their flavor comes from a good, wholesome diet. (They are rather hard to breed, however, due to their propensity for cannibalism when in captivity.)
Right now is as good a time as any to try Fourchu lobsters. Not only is today National Lobster Day, but we're well into the crustacean's short two-month season, which lasts from mid-May through mid-July. During this time they'll be served daily at L'Ecole, the ICC's restaurant, and featured at such restaurants as Blue Hill, Daniel, Gramercy Tavern, ABC Kitchen and Spotted Pig. Cann Hamilton is sure that the flavor of her beloved Fourchus will convince you they're worth the wait each year. And worth, well, shelling out for. (Pun fully intentional.)
"It's the best diet food," she raves. "The lobster doesn't need butter."
Oh, Canada.
More lobsterrific coverage on Food Republic: